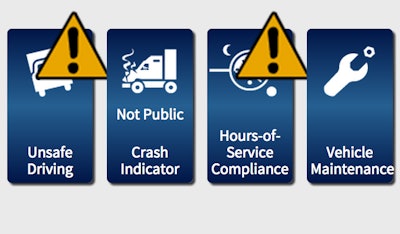 The Federal Motor Carrier Safety Administration is asking for comments from industry stakeholders on the implementation of a "Beyond Compliance" program that would reward carriers for early safety tech adoption or other voluntary compliance initiatives beyond the scope of current safety regulations.
FMCSA is required by the December-passed FAST Act highway bill to implement the program within 18 months of the bill being enacted.
Through the proposed program, FMCSA must give credit either through (1) a new category in the Compliance, Safety, Accountability program's Safety Measurement System, dubbed the Beyond Compliance Behavior Analysis and Safety Improvement Category in the FAST Act, or (2) an improved Safety Measurement System percentile for a carrier that either installs advanced safety equipment; uses enhanced driver fitness measures; adopts fleet safety management tools; technologies and programs; or satisfies other standards deemed appropriate by the agency.
The FAST Act also requires a public comment period on a process for identifying and reviewing advanced safety equipment, enhanced driver fitness measures, fleet safety management tools, technologies and programs, as well as other standards used by motor carriers to receive recognition. The agency has also held and plans to hold public listening sessions on the Beyond Compliance program.
Owner-operators have said they see the program as one that would help big carriers with deeper pockets while potentially harming owner-operators' CSA percentile rankings.
The comment period will be open for 60 days after the notice is published in the Federal Register on Wednesday, April 20. Comments can be made by going to www.regulations.gov and searching Docket No. FMCSA-2015-0124.