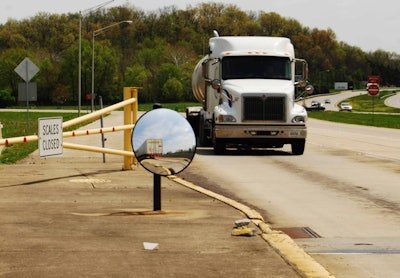 The Federal Motor Carrier Safety Administration has revealed some detail about where it proposes to go with the so-called "Beyond Compliance" system required by the FAST Act highway bill, hinting its Compliance, Safety, Accountability system could see another category as part of the voluntary compliance program.
The FAST Act required the agency to take one of two routes toward establishing the system to provide credit to motor carriers going above and beyond baseline compliance – either credit those efforts in the existing Safety Measurement System of the CSA program or create a new category to stand alongside that system's seven current BASIC categories of measurement.
The Federal Register notice, published last week and requesting further comments, noted that the agency is leaning toward adding an eighth BASIC. You can think of it as the regulatory-compliance equivalent of the SmartWay Transport Partnership with the U.S. Environmental Protection Agency, in which carriers voluntarily invest in verified fuel-efficient technology in exchange for being named a SmartWay carrier, a tool then for carriers to use in promoting themselves with prospective customers.
The new voluntary SMS category would require carriers to apply to be a part of it, FMCSA Associate Administrator for Enforcement Bill Quade told attendees of today's Beyond Compliance listening session at the Commercial Vehicle Safety Alliance Workshop event in Chicago. "The new BASIC will be two-tiered," he said. "One tier would be 'deployed'" and would be displayed as such in the public SMS, showing that a carrier has put a safety-enhancing technology or program into use in its trucks and/or operations.
The other tier would display as "improved," showing a technology, program or practice that's past deployment stage to verifiable improvement in safe operation.
Essentially, as Quade put it, "you've deployed this, and we'll give you credit for it." After six months, if the carrier has seen improvement in safety metrics with targets set by the carrier in their application, the carrier would be credited with improved status. Quade detailed the entirety of the FMCSA's proposed structure for the program in brief in his opening remarks at the listening session:
Irwin Shires of Panther Expedited set the tone for much of the commentary that followed in response to the details of FMCSA's notice published last week. What carriers have asked for with the Beyond Compliance system, Shires believes, is not a separate BASIC but a way to "assist carriers in improving their scores. To create a separate BASIC seems to me totally counterproductive."
He charged FMCSA with something drivers who recall the outcome of the hours of service listening sessions that preceded the 2011 rewrite of the rules may well find familiar. Shires noted he'd given comment at each of the previous Beyond Compliance listening sessions, adding that FMCSA had put the cart before the horse in releasing a proposal at this stage of the process and that public forums should not just "be listening-and-then-ignoring sessions."
Joe Rajkovacz, representing the Western States Trucking Association, echoed Shires' call for a focus on improvements within the existing CSA SMS with any Beyond Compliance program, calling FMCSA's proposal as written "a kick in the teeth" from his association's standpoint. Particularly, he said, eligibility requirements for participants, with associated costs for participating, seem to in some ways exclude those who might otherwise have benefited. "We believe this program can be beneficial to small carriers especially," said Rajkovacz.
But FMCSA's proposal, as Quade noted, specifies eligibility to participate extends only to carriers who do not show a CSA score in any BASIC category of measurement that is above the agency's intervention threshold in that BASIC.
"By telling a carrier that if you're already in an alert in a BASIC, 'you can't participate,' you've taken away any incentive from most small businesses participating," Rajkovacz said.
Smart Safety Services' Daniel Solana, based in New Jersey and working mostly for smaller carriers and owner-operators, had similar thoughts. "I was extremely happy when this came out," he said, citing what he saw as the program's potential, at least, to be an avenue toward publicly visible safety improvement for his clients. "I got a good feeling that this would be implementing something that would be for the people that need help."
The good feeling has not lasted following FMCSA's proposal, Solana argued, saying he felt, essentially, that anyone should be allowed to participate, including Conditional-rated carriers, which FMCSA has proposed to lock out of the system. "Use of the Conditional rating could be problematic," said Rob Abbott of the American Trucking Associations, noting the well-documented struggle so many such carriers have faced getting even consideration of an upgrade to Satisfactory as agency division resources are spread thin.
"On a higher level," Abbott added, "would it be wrong to recognize a fleet with a Conditional rating that had made an investment in improving safety?"
Quade pointed out that, as proposed, FMCSA would work toward a no-cost contract with a third-party service provider to ultimately administer the program. The contract would allow the provider to collect compensation directly from motor carriers to offset its own investments. The Federal Register notice cited an average $750 a year in costs for a carrier participating in the program. Quade clarified that the figure was somewhat misleading, given the smallest carriers would likely spend much less, the largest much more.
Swift Transportation's Victor Malchesky noted he might have a tough time justifying "paying to be a part of something I'm already paying millions of dollars to put in," referencing investment specifically in technology on Swift trucks. "We're already paying, so to ask us to pay again to fund [the program] seems a little unfair."
"Having a carrier pay to be recognized for doing something exceptional seems a little bit silly here," noted Owner-Operator Independent Drivers Association Director of Regulatory Affairs Scott Grenerth. "You can have a carrier saying, 'I'm doing everything right'" with no accidents, no advanced safety technology to speak of. "How is it appropriate to have the carrier spend the money to get recognized for something?"
Grenerth, in the final analysis, also warned that the Eighth BASIC approach will ultimately become a standard that disadvantages businesses without the money or time to invest in participating in the program. "If you have a new BASIC for this, that will become the standard" for brokers and shippers in carrier selection.
Jack Van Steenburg, FMCSA's Chief Safety Officer, noted he'd heard the concerns in the morning portion of the session loud and clear. "The Federal Register notice is open trough June 20," Steenburg said, emphasizing the proposal was just that, a proposal that the agency intends to tweak based on feedback. "After that we'll start making some decisions."