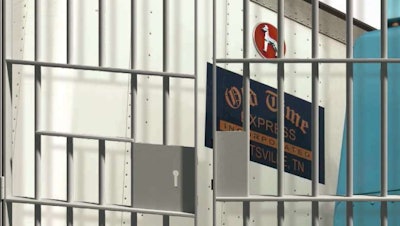 Small fleet operator Mark White of Hartsville, Tenn., has been involved in the family business, Old Time Express, since his father founded it in the mid-1990s.
Bo White "almost went broke the first month," Mark White says of his father. Today, however, the company uses about 25 company-driven and owner-operator trucks. "It's been the sheer grace of God that we got this far."
That growth came slowly, in keeping with Bo White's philosophy of doing business in a time-honored way. Traditional approaches to trucking have been changing, though, since the advent of the Federal Motor Carrier Safety Administration's Compliance, Safety, Accountability program in 2010.
One crumbling notion is that minimizing contact with law enforcement authorities is always best, particularly when it comes to the compliance review or, in CSA parlance, the federal safety "intervention."
As Overdrive reported last month, FMCSA is transitioning out of the old safety-rating model. However, it remains the only system in which a safety evaluation of a carrier can take place, officially. Ratings of Satisfactory, Conditional or Unsatisfactory are possible. Given the limitations in the number of carriers the system can reach – only an onsite comprehensive compliance review or intervention can result in a rating for a previously unrated carrier – being unrated in the old model hasn't posed a problem for carriers before or since CSA began.
"Some say a Conditional safety rating is the new Unsatisfactory." –Attorney Henry Seaton
The Conditional rating is another story. It used to be that a Conditional rating was unlikely to put a carrier out of business, given FMCSA made it a priority to follow up on Conditional ratings to assess changes the carrier had made in cooperation with the agency. Now the agency essentially has abandoned old policies that prioritized follow-up Conditional carrier reviews.
One senior official, speaking on background, explained that even before CSA, a transition was under way. Today's emphasis is on more of a "performance-based program whereby we recognized that it is more appropriate to intervene first on known current performance problems rather than follow up on old Conditional ratings."
A carrier rated Satisfactory under CSA, the source went on, may need more enforcement attention than a carrier with an "ancient" Conditional. That's because, in FMCSA's view, the performance data delivered by the CSA Safety Measurement System are better markers of carrier safety than the snapshot-rating approach of the old model.
Even though FMCSA is placing less importance on Conditional ratings, some in the private sector see the Conditional rating of the old model as gaining even greater import for small carriers' business prospects. Combined with CSA's seven BASIC category measures of carrier compliance, the Conditional rating has assumed greater importance in broker and shipper carrier-selection processes. That linkage largely is ignored by FMCSA's new approach to Conditional ratings.
Meanwhile, the replacement for the old rating model remains years off. The agency plans to tie a new "Safety Fitness Determination" rating to performance-based data garnered from roadside inspections and crashes.
Conditional carriers before and after CSA
"There are carriers out there who have been conditional for 10 to 15 years," says longtime regulatory consultant Richard Wilson, based in Delaware. If they don't have high CSA scores, they think "why bother" with requesting a review to upgrade to Satisfactory, which 385.17 of the Code of Federal Regulations allows at any time. That "why bother" approach "is the old philosophy," says Wilson.
He tells of Conditional carriers he's worked with over the years that have gotten their compliance operation in shape after the rating was handed down. Six months to a year after beginning such work, Wilson typically would advise the carrier to request a voluntary compliance review to upgrade to Satisfactory, inviting FMCSA to come take a look. By then, Wilson's done what amounts to "a complete compliance review myself," he says.
In the past, following such reviews, "70 percent of the feedback I'd get is that, 'It hasn't bothered us, it hasn't cost us business. As long as we keep ourselves under the radar, we don't have to worry about dealing with the FMCSA.'"
The new world, however, is proving otherwise. Old Time Express' most recent audit was its fifth since 1999, according to the CSA SMS. It was prompted after the fleet "popped a triangle," or exceeded the intervention threshold, in the Hours of Service Compliance BASIC in the CSA SMS, Mark White says.
On March 15, 2012, an inspector came out for the audit. "He'd been the one doing the previous two or three audits, a nice guy and a former driver," White says. He uncovered a pattern of hours violations by requesting time-stamped fuel receipts, something he'd not done previously.
The audit is listed on Old Time Express' carrier profile in the CSA SMS as a traditional compliance review, but White's telling of it sounds very much like a focused hours of service intervention. End result: Old Time Express was saddled with a Conditional safety rating in addition to the high Hours BASIC score.
Larger brokers said, " 'Look, we're not going to load you.' Over time, more and more started to drop off," White says. "There were some who would say that as long as you can show us that in good faith you're making an attempt" to improve things, "we'll keep using you."
In the aftermath: "Roadside inspections spiked," White says. This likely had less to do with the company's Conditional rating and more to do with its "alert" status in the Hours of Service BASIC. The Hours BASIC is the only one of the seven CSA categories of measurement where a single alert status flags carriers for inspection by roadside inspectors.
Before it could get better, Old Time Express started to look worse. Its Hours BASIC score went up, and with all the added inspections, maintenance violations pushed its Vehicle Maintenance score eventually fairly close to the intervention threshold.
Meanwhile, trying to deal with the Conditional rating, the carrier initiated a log-auditing service and repeatedly stressed the importance of logbook currency and accuracy and operating within legal constraints. However, two to three months following the Conditional rating, the plan was rejected by the Tennessee FMCSA division as inadequate, White says. The agency declined to conduct a follow-up review.
Old Time Express was experiencing what transportation attorney Henry Seaton calls the "safety jail" effect. It happens when the Conditional rating is combined with a golden triangle or two in the CSA SMS, said Seaton, speaking last fall at the National Association of Small Trucking Companies' annual meeting in Nashville, Tenn.: "Some say a Conditional safety rating is the new Unsatisfactory. Conditional now is much more difficult to get upgraded." The longer the agency waits to come back out to re-evaluate a carrier, he added, "it basically starves [a carrier] out of business."
Wilson concurs. From the shipper's point of view, value of service, time to deliver and cost were the primary elements of "the old formula," as he calls it. Now an insurer, taking note of a carrier's Conditional rating and SMS ratings, tells the shipper, "We don't think you ought to be dealing with these people," he says.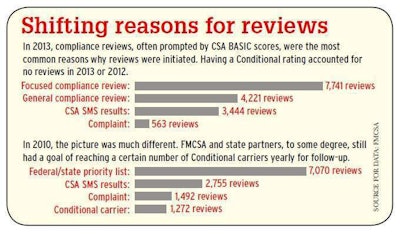 [youtube WfDiHsM_PyA nolink]
Part 2: How Old Time Express turned the lock open with a rating upgrade