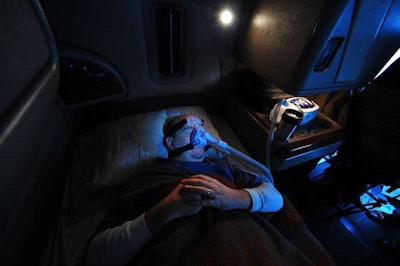 Costs, both time and money, were big topics of conversation during the Federal Motor Carrier Safety and Federal Railroad administrations' "fact-finding" listening session on sleep apnea/operator safety Tuesday, May 17.
"An owner-operator's livelihood depends on his or her truck moving," said Andrew King, a research analyst with the Owner-Operator Independent Drivers Association. "If an owner-operator misses work to be tested, that makes it hard to pay their bills."
The FMCSA and FRA hosted this session, the second of three listening sessions scheduled this month, in Chicago with the third to be held May 25 in Los Angeles.
Truck drivers also echoed comments from last week's session that basing a driver's likelihood of having obstructive sleep apnea on body mass index and neck size isn't a fair practice. "The decision to send a driver for a sleep study needs to be based on more than neck size and BMI," truck driver Carla Williams said. "Basing a driver's likelihood of having sleep apnea on two factors that are often not the best indicators of sleep apnea is poor practice."
Trucker Bob Stanton of the Truckers for a Cause sleep apnea patient support group had plenty to say about sleep apnea and suggestions for FMCSA on developing a rule, but also urged the agencies to consider extending the comment period because of a survey in progress by the American Transportation Research Institute.
"After talking with ATRI last week, they're going to be hard-pressed to get the data from the survey compiled before the June 8 deadline," he said. "Stakeholders need more time to provide you with good, objective, quantified data."
Stanton also named several problems truck drivers can potentially run into with continuous positive airway pressure (CPAP) machines while on the road.
"We still haven't solved the problem of how to use a CPAP in a non-APU truck in a no-idle state such as California," he said. "Plus, you can't use a CPAP below 45 degrees because CPAP-induced hypothermia is a real problem. I've experienced it. We hear from drivers about this all the time. Oral appliances are going to have to be an option."
Insurance coverage is also an issue, according to Stanton.
"If a driver is qualified as high risk by a medical examiner, the claim is sent to the insurance company, who will then deny it based on medical necessity," he said. "In developing the criteria for this rule, will the criteria meet medical necessity for insurance reimbursement? Otherwise, the cost will be incurred by the driver."
Canadian owner-operator Johanne Coutoure, who runs in both Canada and the U.S. and serves on OOIDA's board of directors, was diagnosed with mild sleep apnea six years ago. She said she was referred to a sleep clinic from her primary care physician, and her only known symptom was snoring. She took an in-home test, which came back inconclusive, then had an in-lab test, which revealed mild apnea. She then had an oral appliance fitted by a dentist. In total, she missed seven days of work.
"Unlike many people who report to work at the same time everyday and can make appointments during lunch so they don't miss work, truck drivers don't have that luxury," she said. "When we have to make an appointment, we have to take a whole day off, and a lot of times, that means two or three days of lost revenue."
Commenters also brought up the question about whether there really is a correlation between drivers with sleep apnea and crash risk. King with OOIDA said a 2004 study by FMCSA stated there was no association between sleep apnea and commercial motor vehicle crashes, and that patients had no greater probability to crash before or after the diagnosis.
No commenters questioned whether sleep apnea treatments worked, but they did, however, question the criteria to which medical examiners use to send drivers for a sleep study.