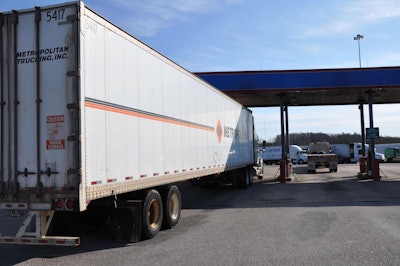 To rise above the crowd as an independent requires finding your niche and properly quoting rates, said Kenny Long, who runs the Patriot Star small fleet.
Long, who also produces the Trucking with Authority podcast, spoke at the Certified Master Contractor training event Tuesday in Omaha, Neb. The five-day training seminar is produced by Kevin Rutherford, trucking radio host and long-time presenter with Overdrive's Partners in Business program.
Long stressed highlighting your points of business distinction, incorporating them into a business plan, and putting the plan on paper. "In a nutshell, it's a written sales pitch to yourself," he said.
Once you begin operating with your own authority, flexibility and having a plan B is critical. "You have to be ready to change and update it as problems arise," he said.
Market research, including discovery of your competitors' strengths and weaknesses, helps you explain to shippers how your services are special and deserving of strong rates.
"Communication is far and above the number one customer service issue we have in trucking," he said. For example, some shippers and brokers require use of a tracking service, but some drivers refuse those loads. Given the widespread use of smartphones, "it irritates customers because they know everybody has the tools."
Long also emphasized having an attitude of being "a problem solver" instead of complaining about the problem. He gave the example of calling around to secure a forklift on his own at a drop where the lack of one was going to cause a long delay, hurting his schedule and the shipper's. Solving the problem also made his company look good.
"Being a problem solver in itself can also be a niche," he said. For example, offering specialty trailers, being able to secure a crane or learning the ropes of getting oversize permits. "So when you get to that problem shipper, you are the expert of all things."
To appear as an expert and to keep up with markets, Long recommended checking data and other timely information from truckstop.com and its Fuel Desk app, DAT and its Trendlines rate report, Cass Freight Index, the USDA Truck Rate Report, the U.S. Bureau of Transportation Statistics, the American Trucking Associations and state trucking associations.
For quoting a load, Long said it's better not to rely simply on revenue per mile. Instead, he recommended determining your operational costs per day. That means adding all yearly fixed costs, such as truck payment and taxes, including company profit. Then divide that total by the number of days you intend to work for the year. He arrived at $270 per day in his example.
Then compute total average estimated variable costs, such as fuel, on a per-mile basis. His example used $1.10 per mile.
Using those numbers to evaluate a 250-mile load that could be done in one day, it should pay $270 plus $275 ($1.10 X 250), or a total of $545.