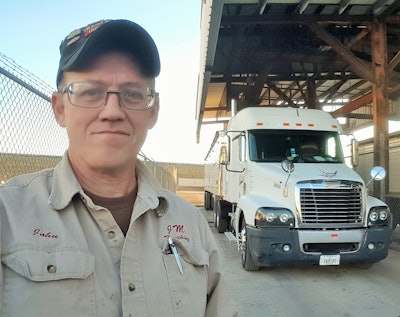 Oklahoma-based John Moore hauls a variety of dry bulk materials using a hopper bottom and his 2007 Freightliner Century Class tractor, leased to Little Rock, Ark.-based Oakley Transportation. The truck is outfitted with a 60-inch sleeper, powered by a Detroit 60 Series and a 10 speed transmission. "I just got it paid off in December," he says. "It had been a PAM Transport truck traded in at 540,000 miles. I've got 881,000 on it today."
Until the last year, he'd been leased to Landstar, and his decision to come back to this particular owner-operator niche with Oakley, where he'd been leased previously, had as much to with where home was as profitability. In this case, the two went hand in hand, to a certain degree.
Moore lives in Lawton, Okla., close to Fort Sill, where he serves in the Army Reserves as a Staff Sergeant and where he's called in for drills on a regular basis. Under Landstar's self-dispatch system, following the activity/money on the in-house board, Moore says he'd be "gone for a month at a time, working Illinois, Pennsylvania, Tennessee" and elsewhere well east of his home.
"My wife got tired of me saying, 'I'll see you in a month,'" as he says.
Back with Oakley, "I'm home every weekend now," he adds, and the freight is steady.
Moore did 15 years active duty in the Army, not all at once, the most recent period ending after time in Iraq and subsequent active service through 2012, and "went straight into the reserves after that, trying to get the retirement. I'm a truck driver in the Army as well." When he was active duty, he "hauled a lot of rockets and ammunition around Fort Sill."
Reserve status also "allows me to keep health insurance on the family," Moore says, and to "transfer G.I. Bill benefits to my daughter," who's applying to Oklahoma State's physical therapy program. "This will give her a four-year scholarship."
Moore is dispatched out of the Catoosa, Okla., river port operation of Oakley, where he delivers grain and other commodities frequently. "They'll go there and put grains on a barge – soybeans, grains, wheat, fertilizer. There's a lot coming out of the ports going to the farm fields, too. I might take a load of wheat in, load fertilizer back out up to Kansas, somewhere in Oklahoma or Texas, pick up a load of wheat – a lot of back and forth like that."
He choose to haul with a hopper when he returned for the simplicity — other options for owner-operators at Oakley include dry bulk tank and end dump, both requiring an investment in specialized equipment for loading but coming with a boost in the mileage pay offered to operators, Moore notes. "Hoppers are the low end of the pay," and Moore's at $1.12 per mile plus fuel surcharge, or $1.28 when we talked a couple weeks ago.
"There's money to be made at Oakley," he says, particularly given his location and the amount of home time it affords. Mileage pay "increases, too, with longevity at the company. And you have a bonus – for every loaded mile, a penny a mile is put in your bonus – on your anniversary you're paid that."
Choosing the hopper, he says, he avoids added costs that might have otherwise applied, plus it's "what I know. Easy enough to open the doors and get in there and sweep it out, and you're done – with a load of wheat I go into the port and I'm empty in about a minute."
Detention issues sometimes come into play at the port if it's particularly busy, but nothing totally out of hand, Moore says. Dispatch he gets primarily off the phone — "it comes in over the Qualcomm," referring the onboard units the company's operators utilize for communication and e-logs. In general terms, dispatch "leaves me alone most of the time. There's very little phone calls or conversation."
About those e-logs, Moore says. "I've been doing it now for three years — less paperwork I have to worry about. And if you're ever in an accident or a situation, there's no question of whether you're legal or you're not. You can't get around that drive line."
The hopper he pulls has two sections, each loaded independently. "I can gross 52,000 pounds" of product on the trailer, Moore says. He uses on-board scales by Right-Weigh as a load assist. "Whenever I'm loading, while I'm loading the front hopper, I'll load until it gets to 26,000 on my front hopper," then run the rear axle up to 34,000 and "shut it off." He recalibrates the scale "every six months or so" cross-referencing the on-board scale's weight with that from a Cat scale.
Best thing about what he's doing today? Variety, in some ways. "Sometimes I'm in the middle of a field loading up from a combine – that's a lot different than bumping a dock and hauling widgets for ACME company."