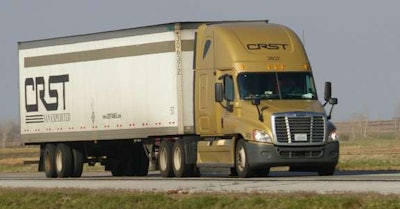 The U.S. Supreme Court issued a unanimous ruling May 19 in favor of CRST Van Expedited, a division of mega-carrier CRST International, who is seeking to recover millions in legal fees spent defending itself from an Equal Employment Opportunity Commission-brought lawsuit.
The Supreme Court order reverses a decision made by the U.S. 8th Circuit Court of Appeals, who ruled against CRST's collection of attorney's fees in the case. The 8th Circuit decision vacated two rulings by lower courts that said the EEOC owed CRST $4.7 million in legal fees.
CRST appealed the decision and ultimately prevailed in the case's last stop: The U.S. Supreme Court.
The final dollar amount owed to CRST has not been decided. Further adjudication will determine how much the EEOC must pay CRST. Two prior orders made by lower federal courts, however, determined the carrier is owed nearly $5 million in attorney's fees and court costs.
The case stems from a lawsuit brought against CRST in 2007 by the EEOC. The commission charged that the carrier violated Title VIII provisions by allowing male instructors to train new female drivers while sharing a truck, saying the practice created a hostile work environment. Several women reported being sexually harassed by their male trainers.
All of the claims brought by the EEOC were eventually dismissed in court. A U.S. District Court in Iowa ruled the EEOC failed to show reasonable cause against CRST. The court also showed CRST made good faith efforts to conciliate the claims brought by its driver trainees.
The EEOC, following several other court stops, eventually withdrew its claims for all but one plaintiff, who settled her case for $50,000.
The Supreme Court in its May 19 decision, in short, ruled that CRST is owed reimbursement from the EEOC for the money spent defending itself in court the last 9 years. The case has been sent back to the Court of Appeals and the District Court to finalize "further proceedings consistent with this opinion," the Supreme Court order says.