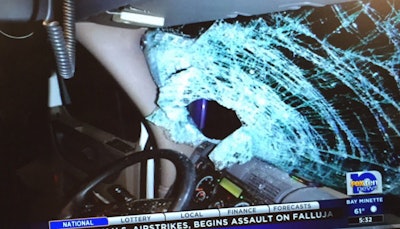 Authorities looking for red pick-up truck in connection to incident that left truck driver injured. @FOX10News pic.twitter.com/JseUEezdUS

— Sarah Wall (@SarahWallFox10) May 25, 2016
A Mississippi-based truck driver was recently hospitalized after an object was thrown through his windshield and struck him in the face while driving through Mobile, Ala., according to a report from Fox 10 TV. Authorities are searching for a suspect.
The incident happened early Saturday, May 21 as Charles Jones was driving down Highway 98 in Mobile, the report states. He was able to get the truck stopped in the road, and a driver behind him called 911. Police found a busted jug in the cab of Jones' truck that police believe was the object thrown through the windshield.
He's now recovering in Providence Hospital from his eyes being swollen shut and a fractured left cheek bone, according to Fox 10.
Jones told the Mobile County Sheriff's Office he saw a suspicious red pickup truck before the object came through his windshield, the report says. The MCSO told Fox 10 that other truckers have reported objects being thrown at their trucks and also seeing a red pickup.
Police are still searching for the occupants of the red pickup and are asking anyone with information to call (251) 574-8633.