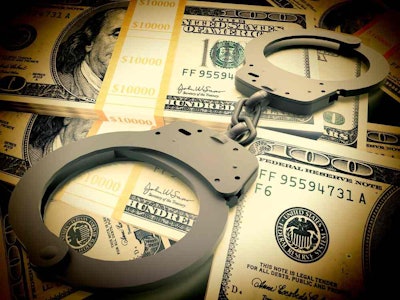 A former San Antonio police officer who worked in a unit that performs inspections on trucks was arrested and indicted this week on bribery charges, according to a report from San Antonio news station KSAT.
The officer, identified as 42-year-old Daniel Schmitt, allegedly was paid $7,400 by Texas Chrome Transport to give the company "higher than normal passing grades" on its inspections, the report states. The San Antonio Express-News reports that authorities caught on after seeing Texas Chrome's record was "too clean."
Both news outlets reported Schmitt was placed on administrative duty after the allegations surfaced, then was suspended indefinitely in May. The allegations date back to 2013, according to the reports.
Schmitt is also accused of paying another police officer, Johnny Diaz, $400 to give the trucking company a passing inspection, KSAT reports. Diaz reportedly resigned from the San Antonio Police Department in January.
Schmitt was indicted June 2, according to court records, and was booked in the Bexar County Jail on June 6.
According to the Federal Motor Carrier Safety Administration, Texas Chrome Transport has 67 trucks and 65 drivers. No one with the company has been charged to date, according to the reports.