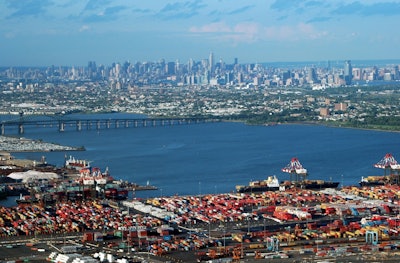 The Coalition for Healthy Ports and key Newark, N.J. politicians want the Port Authority of New York and New Jersey to reinstate a plan to prohibit trucks with engines older than 2007 by next year.
At a June 16 press conference, Mayor Ras Baraka and Council President Mildred Crump asked PANYNJ to return to its original plan to bar pre-2007 diesel engines by 2017. Last January, the port authority announced it would only ban 1994 and 1995 engines by 2018. It also would commit $1.2 million to supplement the $9 million expected in federal grants to help truck owners replace trucks.
Teamsters union representatives echoed the cry for the stricter plan to produce a bigger cut in emissions at the CHP-led event. The coalition is composed of environmental, labor, faith, community and environmental organizations striving for cleaner New Jersey and New York ports.
Meanwhile, New Jersey legislators are considering identical bills that, to be enforced, would require New York lawmakers to pass similar measures.
The legislation would require motor carriers serving PANYNJ to meet emissions standards equal to what the California Air Resources Board has established for 2007 heavy-duty diesel vehicles. It also calls for instituting a Clean Truck Tariff on port motor carriers to help finance a fund that would offset retrofitting and replacement costs.
However, the measure also stipulates statewide, all heavy-duty diesel vehicles licensed or operating in New Jersey would have to meet these emissions standards.
The Association of Bi-State Motor Carriers said if approved, these regulations would negatively impact most trucks serving the affected ports.
The bills, A3788 and S2253, were introduced May 23 and referred to their respective transportation committees that day.