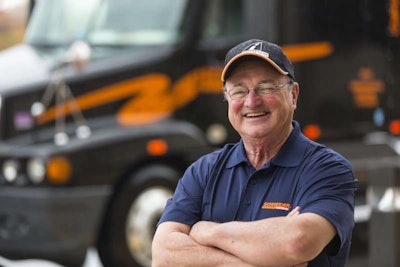 The Commercial Vehicle Safety Alliance (CVSA) named Bob Wyatt of Schneider National the winner of its 2016 International Driver Excellence Award. Wyatt has driven for 51 years and nearly 5 million miles without a crash.
The son of a professional truck driver, Bob developed his love of life on the road from his father. "When I first started driving, I was nervous and didn't want to mess up," Wyatt says. "Each year that went by, though, I banked the things I learned and I kept going – and I kept learning. After this many years on the road, I just know what I have to do and I do it. God blessed me with a natural talent and love for driving, and for that I am thankful."
Although he's had the chance to drive for other divisions of the company over the years, Bob chose to stick with over-the-road.
"I just always wanted to run long," he says.
In submitting Wyatt's nomination, Schneider called Wyatt a willing ambassador for Schneider and the industry. He's Schneider's most decorated driver — and the only driver in the company's 80-year history to receive both Schneider's 40-Year Consecutive Safe Year Driving Award and the 4 Million Safe Miles Award. He is also a Schneider Haul of Fame inaugural inductee. In addition, Wyatt is featured in Schneider's recently published company history book, "Leap of Faith."
"Bob's accumulated 4.8 million miles over his amazing 41-year career at Schneider isn't the most special thing about Bob," said Schneider President and CEO Chris Lofgren. "What stands out to me is his commitment, interest in people and his terrific sense of humor."
When he's not on the road, Wyatt enjoys taking long walks with his dog, spending time with his wife and children, and attending church regularly.
"Bob Wyatt constantly does what is right. He plans his trips meticulously and doesn't allow himself to be rushed," said Don Osterberg, former Schneider senior vice president of safety, security and driver training. "He maintains constant situational awareness and anticipates what other drivers will do before they do it. He drives defensively and shares his considerable insights and wisdom with other drivers in a positive and constructive way."
"We, at CVSA, cannot be more proud to announce Bob Wyatt as this year's winner of the International Driver Excellence Award," said CVSA President Maj. Jay Thompson of the Arkansas Highway Police. "We are so impressed by his spotless record of 51 years of safe driving, his unwavering, long-term commitment to public safety, his proactive approach to growth and learning, and his willingness to engage with leadership to be a catalyst for industry improvement."
Wyatt will be presented with the award September 19, 2016, at the CVSA Annual Conference and Exhibition in Little Rock, Arkansas. Registration opened for the September event recently. Check out the schedule via this link.