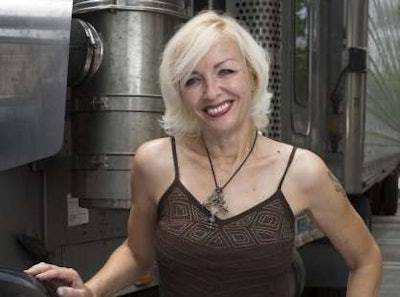 Brita Nowak will be crowned as the Overdrive's Most Beautiful winner at this year's Great American Trucking Show in Dallas, Texas, next month. Click here to register for the event for free.
Former actress Brita Nowak of Jupiter, Florida, is ready for her newest starring role. The owner of BratCat Express is the winner of the 2016 Overdrive's Most Beautiful contest.
The role carries quite a backstory. A German native, trained in economics, briefly models in Berlin, then acts in the competitive Los Angeles market, where she logs TV and movie credits. Then she gives it all up to pursue her lifelong dream to drive over the road.
Now, after a round of Overdrive's audience online voting and consideration by an editorial panel, Nowak came out on top of the field of 75 professional women drivers who entered the contest.
While at 48 she still has the looks that fueled her modeling and acting career, there's little doubt that she's as tough and professional as the best of the best owner-operators. She does her own maintenance when she can, delivers regularly in Manhattan, has owned a small fleet and now prospers as a one-truck independent.
"What sets Brita apart from most women is that she is the total package," says Nowak's boyfriend, Nelson Karakunnel, a software engineer in the Orlando area. "She exudes all the attributes of being loyal, compassionate, intelligent and diligent. With all she has going for her, she still constantly improves herself and never rests on her laurels. I am inspired by the business she has built from her blood, sweat and tears."
The road to trucking
A self-described tomboy, Nowak grew up in Berlin and loved to tinker with engines. She later developed a yearning to be a trucker, but there were detours along the way.
She studied economics and earned a diploma from the EOS Kathe Kollwitz in Berlin between 1984 and 1989. At age 24, she moved to Los Angeles to get away from the German winters and to pursue a movie career.
Nowak made her television debut in 1993 in "L.A. Law." She soon began appearing in "Babylon 5" and "JAG," and then worked steadily in the "Star Trek" TV/movie franchise, including the "Star Trek: Voyager" series.
"It was so much fun," she recalled of the six-plus years she worked in the industry. While she hated modeling, she loved acting. "I got to wear all kinds of different outfits and makeup. The crew and cast were close, and it was living the dream."
But the dream started to fade. While she was sad to leave the movie industry, she was excited about figuring out her next act.
"I left on my own terms," Nowak recalls. "I knew after the 'Voyager' job ended, I needed a way to match the money I was making, but with a new career."
The old wish to drive a truck still lingered. "It was more of a romantic notion, though," Nowak says. "The thought of the open road, seeing the country and being my own boss all appealed to me."
She enrolled in a commercial driver's license school, the only woman in a class of 27 students. Instructors and students frequently asked her, "Are you sure you want to do this?" She was one of only nine who graduated and got their CDL. Only five, including Nowak, stuck with professional driving.
After driving for a California-based company, she decided it was time to get her own authority. In 2004, she founded BratCat Express and bought a used Freightliner Classic and Utility trailer.
Eventually, she grew to five trucks and was doing well. Still, as California's emissions requirements grew more restrictive, she started to look around for a more business-friendly state.
Because she loves the water and warm weather, she moved to Jupiter in 2007. By 2009, she reduced her fleet to just one truck and continued her business alone. "It was hard to find the right drivers, and I finally just decided to be a one-woman operation," she says.
Nowak keeps a close watch on costs, and grosses more than the average owner-operator, though she declines to be specific. Her business has been steady and her customers have been loyal, but that's not the only reason she has succeeded.
"I look at the load and calculate its worth," she says. "It's not how much it pays, it's how much it nets after costs. I'm the tortoise, not the hare. I choose loads with consistent pay and calculate the cost of toll roads, lumper charges and tolls to get back. I factor in how easy it will be to find a load in the area. I'm very frugal with everything, including fueling."
Attitude and aptitude
With her 2005 Kenworth W900, Nowak hauls produce to New York City and brings frozen food back to Florida. Navigating the mean streets of Manhattan is not for sissies, and Nowak's got to be on her game not only to drive through nearly 100 traffic lights once she gets in the city, but also to navigate tricky parking in crowded alleys.
While big cities are notorious for crimes against truckers, Nowak is not too concerned about the risk.
"You have to put out a tough attitude that brings respect," she says. "My hair is fixed, and my lipstick is on, but I dress in black, wear serious black work boots and am a complete professional while loading and unloading.
"I'm not afraid of anyone, but some seem a little afraid of me," she says with a laugh.
While she's also not afraid of cargo thieves, she maintains secrecy about her load and where she stops for fuel or rest. "I would tell anyone out there, man or woman, that you have to be proactive, aware of your surroundings and absolutely focused on doing the job," she says.
She is in the process of leasing a new Volvo from Penske to expand her company and is actively looking for the right drivers. "This time, I'm going to start slower and find the right people."
Upcoming Event

Where Trucking Improves
The Great American Trucking Show is bigger and better than ever before. Don't miss out on the rigs, the swag, the education and more.
Discover GATS! →
Join a community of truckers at GATS
From free concerts to highly educational sessions, GATS is where trucking gathers. August 23-25, in Dallas, Texas. Register today.
Even with that cautious attitude, Nowak felt it worthwhile to get top-of-the-line equipment. She chose a silver 2016 Volvo 780 with black trim and spec'd it to attract good, safe drivers, including women.
"I ordered automatic so they don't have to worry about shifting and I don't have to worry about the clutch," she says. "It's very luxurious, lots of cabinet space, a fridge and the little things that count, like an outlet for a hairdryer."
Nowak's next act is her expense-paid trip to Dallas Aug. 25-27 for The Great American Trucking Show, where she will represent Overdrive, receive a makeover, pose for a photography session and sign autographs.
"I want to use this opportunity to encourage girls to consider a trucking career. It's a way to grow in your confidence, support yourself and your family, and have an adventure along the way."
Most Beautiful runners-up
Brita Nowak says the chance to get to know the other nine Overdrive's Most Beautiful finalists through online chat was one of the best parts of the contest. "I'm impressed with the caliber of these women," she says. "They are beautiful, strong and professional." The two runners-up were Liberty Fry and Kristen Kudlic.
Fry and her husband, Steve, from Leavenworth, Kansas, haul explosives with their 2016 Kenworth W900L Icon Edition and are company drivers for Fleenor Brothers. Fry wanted to drive so that she could be with her husband and finally took the plunge once her younger of two sons turned 18. Liberty and Steve have made health a priority this year and have lost 20 pounds each.
A serious motocross accident in 2009 left Kristen Kudlic, from Feeding Hills, Massachusetts, with a broken back and paralysis from the waist down. But within a month, she was walking with crutches, and she was walking without assistance by 2011 when she went to get her CDL. "The state trooper denied me as I was walking up because I had a limp," she says. She went elsewhere, got her CDL and now owns a 2011 Kenworth T800. She owns K Kudlic Inc. and hauls mostly construction materials and dirt.