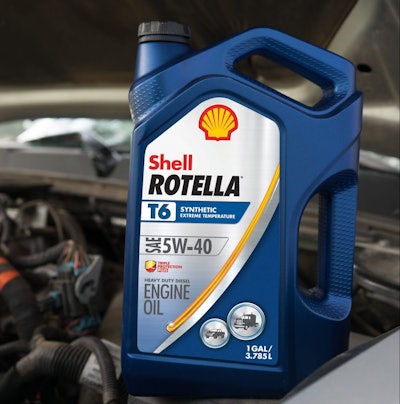 Shell Lubricants on July 19 announced the next generation of its Rotella heavy-duty diesel engine oils — the CK-4 Rotella product line and the low-viscosity FA-4 Rotella line. The new lubricants, part of a new oil category in development since 2011, come in response to tightening emissions standards, demand for greater fuel efficiency and evolving needs of modern engines, Shell says. The unveiling came at an industry press event held in Washington, D.C., this week.
The new Rotella products will come to market in December 2016, when American Petroleum Institute licensing for the CK-4 and FA-4 categories is scheduled to begin.
The CK-4 Rotella products will replace the current CJ-4 Rotella oils used today and work with engines of all ages.
The FA-4 products are designed for year-model 2017 and later engines and will have limited backwards compatibility. FA-4 was developed as part of the industry-wide push to meet the next round of fuel economy and greenhouse gas emissions regulations, which go into effect for model-year 2017 engines. The lower-viscosity FA-4 oils — which are "thinner" than CK-4 oils — could improve fuel economy by about 2 percent when compared to current CJ-4 oils, Shell says. Moreover, there's no trade off in durability of the oil or its ability to protect engines, says Shell's Global OEM Technical Manager Dan Arcy.
For end users like fleets and owner-operators, deciding which new oil to use is fairly simple. If fleets run 2016 model-year engines and earlier, they'll stick with CK-4 oils. If they run 2017 model-year engines, CK-4 can be used, but FA-4 oils will be recommended due to their ability to boost fuel efficiency. Engine manufacturers will be making formal recommendations regarding CK-4 vs. FA-4 use this year, however, and some may OK use in engines older than 2017. Shell says it will defer to manufacturers for recommendations on which oil end users should use.
Overdrive sister site CCJ has more on the new Rotella offerings. Click here to read its report.