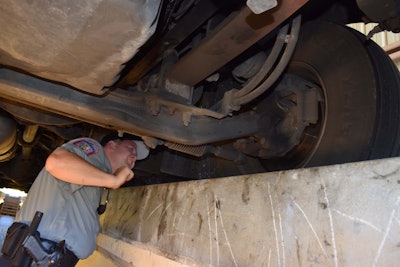 A few minor changes to the Federal Motor Carrier Safety Regulations (FMCSRs) remove the ability for carriers to use roadside inspections as their required annual inspection, as well as clarify rules on correcting violations found during roadside inspections and more.
In a Federal Register notice to be published Friday, July 22, FMCSA is amending the "Parts and Accessories Necessary for Safe Operation," and the "Inspection, Repair and Maintenance" portions of the FMCSRs. The agency says the changes are generally minor and "do not involve the establishment of new or more stringent requirements, but instead clarify existing requirements to increase consistency of enforcement activities."
The changes that have the biggest effect on owner-operators include:
Roadside inspections will no longer meet the requirements of an annual inspection, and carriers will be responsible for making sure a periodic inspection is completed every 12 months, even if a roadside inspection is done during that time.
Clarifying the regulation to make it clear that any problems found during a roadside inspection have to be corrected, or a certification must be provided stating the repair is unnecessary, before the truck is re-dispatched.
Deleting the requirement for trucks to have a rear license plate light when state law doesn't require the vehicle to have one.
Prohibiting the use of speed-restricted tires on tractors regulated by FMCSRs unless the use of the tires is "specifically designated by the motor carrier." FMCSA said speed-restricted tires shouldn't be used in excess of 55 miles per hour for extended periods of time.
Other amendments to the FMCSRs clarified certain regulations for enforcement officials for use during inspections, including adding a definition for "major tread groove," and updating the Minimum Periodic Inspection Standards to include requirements to inspect anti-lock brake systems and automatic brake adjusters.