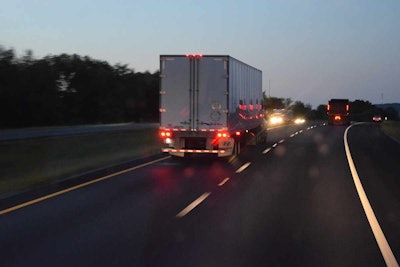 What do the official Republican and Democratic policy platforms — both released in late July in conjunction with each party's convention — say about trucking policy?
Not much, at least directly.
Neither mention the trucking industry by name. The word "truck" (or any variation thereof) only pops up once in either platform, the Democrats'. And it's only part of a broader statement about transporting U.S. goods.
Both parties offer obligatory statements about the role infrastructure plays in the growth of the U.S. economy. The Republicans issued their 66-page policy statement, the Republican Platform 2016, at the beginning of their July 18-21 Republican National Convention. The Democrats issued their 55-page policy statement, the 2016 Democratic Party Platform, on July 21, ahead of their party's July 25-27 Democratic National Convention.
In short, Republicans call on greater private sector funding of highways and bridges and making the most of current funding levels, whereas Democrats say they want to ramp up federal spending on U.S. transportation infrastructure.
The Republican platform calls to bolster highway funding by ensuring the country's Highway Trust Fund (which is funded by at-pump fuel taxes on diesel and gasoline), be used exclusively for highway projects. "More than a quarter of the Fund's spending is diverted from its original purpose," the party notes, citing local sidewalks, bike-share programs, landscaping, scenic byways and more as benefactors of the fund. "These worthwhile enterprises should be funded through other purposes," the party's platform says.
The Republicans say they oppose an increase in federal fuel taxes. Trucking groups, such as the American Trucking Associations, have pushed hard for an increase in the federal fuel tax rate, arguing it's the best way to ensure highways are properly maintained and funded.
The Republicans instead say they'll pursue an expansion of public-private partnerships to bolster highway funding. "Recognizing that, over time, additional revenue will be needed to expand the carrying capacity of roads and bridges, we will remove legal roadblocks to public-private partnership agreements that can save the taxpayers' money and bring outside investment to meet community's needs."
Meanwhile, the Democratic platform promises to expand the amount the federal government puts into U.S. infrastructure. "If we are serious about reversing the decline of the middle class, we need major federal investments to rebuild our crumbling infrastructure and put millions of Americans back to work in decent paying jobs in both the public and private sectors," the party writes. "We will put Americans to work updating and expanding our roads, bridges, public transit, airports, and passenger and freight rail lines."
The party says it also wants to create a "national infrastructure bank" to offer loans to state and local government investments in transportation infrastructure, as well as further entrench Build America Bonds as a funding tool "to encourage infrastructure investment."
The candidates for the two major parties, Donald Trump and Hillary Clinton, have both also been mum on trucking talk throughout the campaigns. But like their parties, the two both have promised greater investments in U.S. infrastructure, including U.S. highways.
As recently as last week, Trump promised to "double" Clinton's call for investing $275 billion into U.S. infrastructure over the next five years, a seeming departure from his party's official platform.
Click here to see the full policy platform issued by the Republican Party, and click here to see the Democratic Party's policy platform.