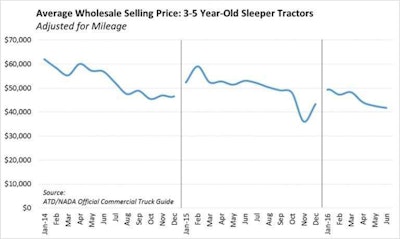 Average wholesale prices for sleeper tractors from 3 to 5 years of age dipped almost 2 percent from May to June, driven mostly by a group of low-priced 2014 Volvo VNL64T 670's, according to NADA. Aside from this group, says Chris Visser of NADA, most models brought pricing similar to May.
"The cohort with the best value retention looks to be trucks of model year 2013 with 400,000 to 500,000 miles," Visser says. "Trucks in this age and mileage range have consistently returned prices in the low- to mid- $40,000 range since January. This is probably a sweet spot in terms of age, mileage, and price for many used truck buyers. [But] note that this same truck brought $10,000 more this time last year."
Three year-old trucks have lost 25.9 percent of their value since January, according to NADA, while four year-old truck values are mostly flat. Five year-old trucks have lost 24 percent of their value.
Year to date, Visser adds, model years 2012 through 2014 have lost an average of 15.4 percent of their value – a monthly average of a 2.6 percent.
"This figure continues to outperform our earlier forecast of 4 percent to 5 percent," Visser says. "However, 2.6 percent is more than double the 1.2 percent average monthly depreciation in the same period of 2015. Further, trucks in this age cohort are bringing an average of $7,965 (or 14.9 percent) less money in 2016 than 2015."
According to NADA data, a year-to-date trend shows trucks of model years 2011-2013 have all lost a double-digit percentage value.
The latest model units, MY 2013, have led the way, losing about 18 percent of their value. Model year 2012 is close behind, dropping 16 percent of their value, and MY 2011 trucks have lost about 15 percent of their value.