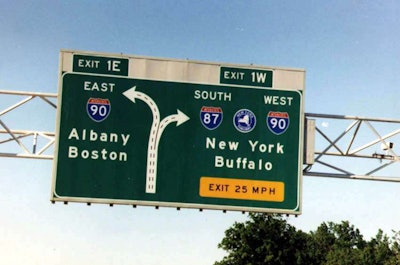 A federal judge has ruled New York Thruway tolls are for maintaining the road and cannot be used to subsidize the state canal system.
Late Wednesday, the 2nd U.S. Circuit Court of Appeals in Manhattan affirmed the American Trucking Associations' contention that the 9 to 14 percent of Thruway tolls allocated annually to the New York State Canal System is unconstitutional. The association, along with three trucking companies, seek refunds for interstate truckers who drove the Thruway since Nov. 14, 2010, three years before the lawsuit was filed.
Ironically, NYSCS had not received toll revenue since April 1, when the state transferred operation of the canals from the Thruway to the state power authority. A provision in the current state budget mandated that change. The 524-mile NYSCS exceeds the Thruway in length and includes bicycle and hiking trails, as well as museums and barges.
Judge Colleen McMahon wrote that the canals have received more than $1 billion in Thruway tolls over the past two decades. However, revenue from canal users averages well under 1 percent of the cost of maintaining and operating the system, she added.
ATA President and CEO Chris Spear echoed McMahon's statement that canal upkeep should not be carrroed by Thruway users engaged in interstate commerce. "We hope today's ruling will not only end this practice in New York, but dissuade other states from financing their budget shortfalls on the backs of our industry," Spear said.
The Thruway's defense included the concept of "functional relationship" which the same circuit recognized in Automobile Club of New York v. Port Authority. In that 1989 case, the court held bridge and tunnel tolls could subside a train taking a parallel route, because these motorists benefited from the reduction in traffic the commuter train provided.
McMahon noted this argument holds "consider irony," given Thruway testimony that the canals are not viable for moving cargo. "…It it is a truth universally acknowledged that the only 'functional relationship' between the Thruway and the canals is that the former rendered the latter obsolete,"she wrote.
A year ago, the appellate court reinstated the lawsuit after Manhattan's U.S. district court dismissed it on a technicality.