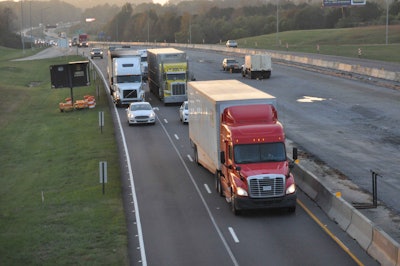 A proposed federal rule to require the use of speed limiters on heavy-duty trucks has cleared its final hurdle in the regulatory process and will likely be published in the coming weeks. The White House's Office of Management and Budget stamped its approval on the rule Aug. 12, according to the White House's online rulemaking portal.
The Notice of Proposed Rulemaking may now be published at the U.S. Department of Transportation's discretion. Rules are generally published in the weeks following their clerance of the OMB.
The speed limiter rulemaking was initiated in March 2014, following a petition by the American Trucking Associations and Roadsafe America. ATA has said it asked the DOT to implement a 65 mph speed limit on trucks weighing more than 26,000 lbs.
Little has been made public about the rule's contents, however, such as what the regulated speed limit would be, when the rule would take effect and which trucks would be required to comply with the mandate.
Those details will be made known once the rule proposal is published in the Federal Register.
The NPRM will likely have a 60- or 90-day comment period, during which FMCSA will seek comment from industry stakeholders and the public at large about the rule and its requirements.
FMCSA will then use the comments to craft a final version of the speed limiter rule, which will then have to go back through the regulatory process before being made final. That process generally takes several years. The rule then will likely have a compliance window, likely a year or longer, before it's fully in effect.