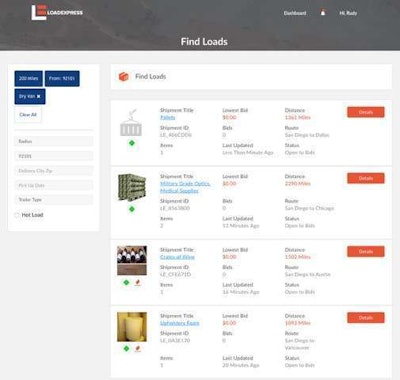 LoadExpress introduced Aug. 25 a new automated freight-matching platform for the trucking industry. The platform aims to automatically connect shippers and owner-operators in an "end-to-end" system, says LoadExpress V.P. Ken Liu, meaning owner-operators would deal directly with shippers throughout the entirety of the the job. LoadExpress was introduced Aug. 25 at the Great American Trucking Show. It will come to market within the next two months, Liu said.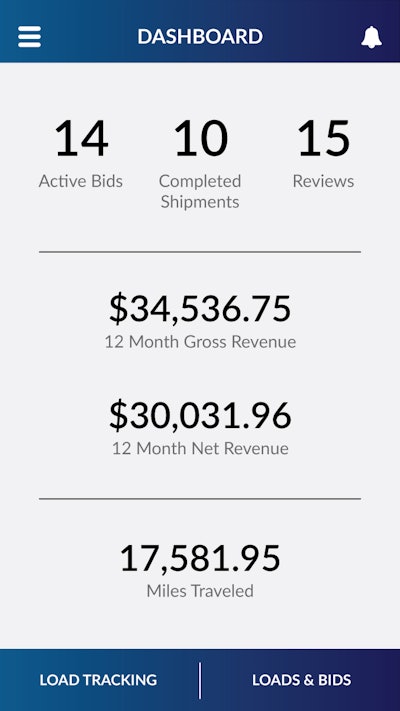 The service is free for carriers. Shippers are charged a percentage of the load's shipping price.
The system works by automatically connecting loads posted by shippers to carriers matching the load. Carriers create profiles with their basic details, such as equipment type, location, desired routes, MC number and more.
Both parties are alerted when the load-carrier connection is made. If the shipper and carrier accept the bid, LoadExpress connects the two parties via email and text, allowing them to negotiate rates or handle other business.
The remainder of the transaction takes place within LoadExpress' portal, which handles all documents electronically, including bills of lading. Once the load is delivered and the consignee's signature verified by the shipper, LoadExpress pays the carrier within 24 hours, Liu says. No fees are charged to carriers on the payment.
"We're using industry proven web-based technology that transformed many other industries such as travel, e-commerce and real estate. We're taking that technology and applying it to the logistics industry,"Liu says. "When you eliminate the middlemen and all the inefficiencies that come with them, carriers will make more money, shippers will lower their costs and both will enjoy higher productivity and customer satisfaction."
The system allows shippers and carriers to track the load in real-time via the program's map functionality, which is provided by Infogation — one of the top truck-specific map suppliers, Liu says.
The routing functionality is also an additional tool at owner-operators' disposal within the app, Liu says, and it's also free of charge to users.
The system will be available via an online web portal and via mobile apps.
Owner-operators will also have access to a robust dashboard of metrics based on transaction and routing history within the app, Liu says.
"This is the long-term trend in logistics," Liu says, referring to automated freight-matching. "It's no different than other industries."