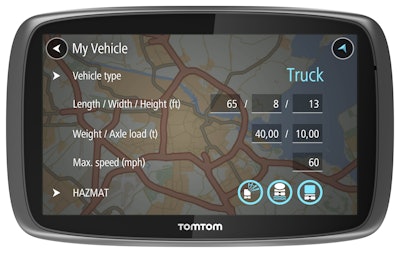 TomTom announced at the Great American Trucking Show it will be entering the trucking industry by introducing a trucker-friendly GPS, the TomTom Trucker 600.
The GPS offers a six-inch screen, which is larger than most others currently on the marketplace, according to TomTom Account Manager Alex Choup.
Additionally, the system offers 16 gigabytes of memory, which allows for updates to maps to have space to install on the unit. TomTom also offers free lifetime map updates, along with TomTom Traffic through the mobile phone app that communicates via bluetooth to the GPS unit.
With the bluetooth connectivity, drivers can log into TomTom MyDrive either on the mobile app or a web-based browser and plan their routes ahead, which are then sent to the unit over bluetooth.
The TomTom Trucker 600 will be available in the coming weeks at www.tomtom.com.