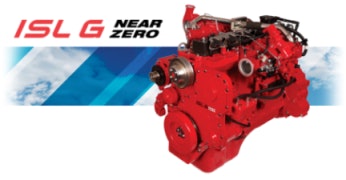 Peterbilt Motors Company is making available the Cummins Westport ISL-G Near Zero NOx emissions natural gas engine for Models 567, 520 and 320, the company announced this week.
The engine emissions are 90 percent lower than the current EPA NOx limit, Peterbilt says, because of a three-way catalyst in the aftertreatment, advanced engine calibration and a closed crankcase ventilation system.
With 320 horsepower and 1,000 lb-ft torque, the engine's performance and efficiency matches the current ISL-G. The engine runs on 100 percent natural gas and can be either compressed (CNG) or liquefied (LNG). It can also run on renewable natural gas (RNG).
The Cummins ISL-G Near Zero will be available for Models 520 and 320 later this year and for Model 567 trucks in early 2017, Peterbilt says.