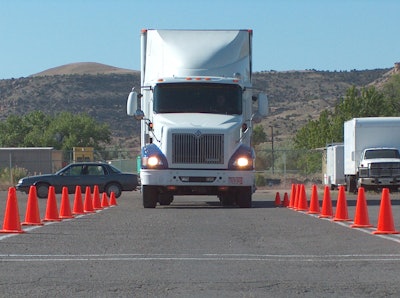 The Federal Motor Carrier Safety Administration's rule to implement entry level driver training standards for truck drivers attempting to earn their CDL has taken the next step toward implementation.
FMCSA sent the final version of the rule to the White House's Office of Management and Budget, and once it clears the OMB, it will be sent back to FMCSA for publication in the Federal Register. The rule, FMCSA says, will take effect three years after its publication in the Federal Register.
If the Final Rule matches up with the proposed rule released earlier this year in March, FMCSA will implement a core curriculum for new truckers receiving their CDL and require them to receive 30 hours of behind-the-wheel training before being issued the license. Additionally, the proposed rule outlined minimum qualifications related to instructors, testing, training vehicles and more, which would be used to establish a registry of approved trainers.
The proposed rule outlined classroom training that would require instruction on the basics of driving a truck, including instrument and control instruction, how to perform pre- and post-trip inspections, how to safely back to a dock, hours-of-service regulations and more. The driving time requires at least 10 hours driving on a range and either 10 hours driving on public roads or 10 trips lasting at least 50 minutes each on public roads.
FMCSA estimates the 10-year cost of the rule would total $5.55 billion on an "undiscounted basis," which includes the cost to everyone involved, including carriers, drivers, trainers and state agencies.
The driver training requirements above could have been altered based on public comments received by FMCSA when the proposed rule was published. The OMB generally has 90 days to clear a rule and send it back to the agency to be published in the Federal Register.