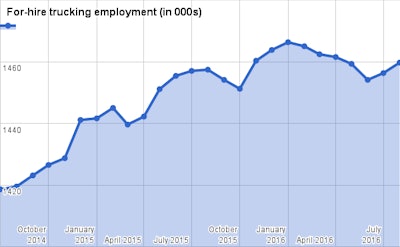 The for-hire trucking industry's total employment grew by 3,400 jobs in August, according to the Department of Labor's monthly employment report. The DOL also upwardly revised July's gains to 2,200.
August is just the third month of the year in which trucking employment has grown. July's gains were the first since January.
The U.S. economy as a whole in August added more than 150,000 jobs, according to the DOL's report, and the unemployment rate held at 4.9 percent.
For-hire trucking employment in August totaled 1.4597 million, according to the DOL. That number does not account for private fleet employment.
The broader transportation and warehousing sector gained 14,900 jobs in August, per the DOL. Construction lost 6,000 jobs, while manufacturing dropped 14,000 jobs.