This just in: The entire nation of Canada has announced it will move to Mexico if Donald Trump is elected President of the United States in November. A statement issued by Secretary of Statements Richard Lipp mumbled these vague threats on behalf of the Northern portion of the continent in general, "We can't go for that, ya' know? It's a cryin' shame, eh?"
Enrique Freud, Mexico's Chief of Responses to Crazy People, responded with, "What the hell is going on? We can barely afford the room for our own citizens fleeing the U.S., and now Canada wants to move in?"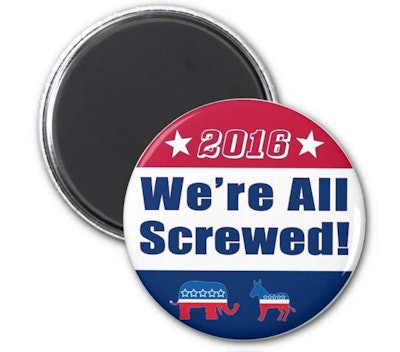 Emotions came to a fever pitch in the national press on Monday, when Canada full-out blasted the situation with this headline: "Put a fork in us, eh?" The article went on to state the entire country is sick and tired of unhappy, floundering celebrity Americans migrating to Canada to be unhappy, floundering celebrity ex-pats, so they've elected to be done with the entire circus and move to Mexico if Trump is elected.
Francois Billauad, Quebec's King of All the Things, made a moving speech to the truck stop patrons on 40, outside of Trois Riveries, but it was in French and all the truckers were American, so the message was left to be given with angry stares and poor service in the restaurant.
As this report was going to press, developing news suggested Mexico had fired back with an announcement it would be relocating to Canada if Hillary Clinton is elected President of the United States in November, causing much concern over whether or not there will be a tear in the space-time continuum when both migrating countries collide.
The general consensus of world leaders is that we're screwed either way, and Armageddon has been tentatively scheduled for November 20, 2016, unless the aliens get here to wipe us out first.
When contacted, Morkas Mindyus, Agent for the Aliens and Otherworldlys, commented, "Zeep zip cock a doodle doo grr grr pew pew pew!" Roughly translated by our three friends left employed at NASA, that means, "Y'all are too damn crazy to be effed with."
Film at eleven.