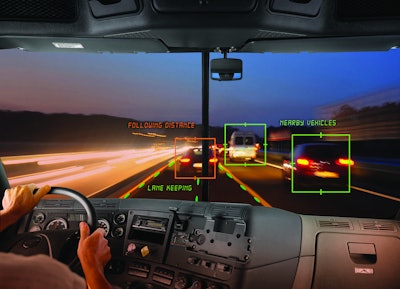 One year after its introduction, the Lytx ActiveVision multi-camera system with "machine vision" tech has been taken up by Swift Transportation, YRC, Melton Truck Lines and Cargo Transporters, among others, the company says. As reported previously in Overdrive, ActiveVision employs its capabilities, including real-time in-cab alerts, with a design to reveal and mitigate driver distractions. Its video-event capture function then enables coaching insights to help drivers improve their safety, the company says.
The company has mined results from its first year of implementation comparing carriers utilizing Activision as a part of Lytx' DriveCam service offering. ActiveVision takes driver performance monitoring to a new level, Lytx says, identifying these "unsafe behaviors that would have gone Results to date show that adding ActiveVision to the DriveCam® program identifies and addresses unsafe behaviors that would have previously gone undetected by standard telematics programs":
• 60 percent more lane departures and the root causes behind them
• Up to 24 percent more drivers who are driving while distracted
• Up to 65 percent more events where the driver is identified as following too closely, and the root causes behind them
ActiveVision detects lane markings, road signage, and surrounding traffic and assesses if patterns related to the following driving event occur:
• Lane Departure: Leaving the lane without signaling
• Following Distance: Not enough space between driver's vehicle and the vehicle ahead
• Critical Distance: Increased potential for impact with vehicle ahead
• In-lane Fitness: Maintaining the boundaries of a single lane
These triggers generate in-cab audio and visual alerts to signal the driver and give him or her the opportunity to correct the behavior. If the alerts go unheeded and the behavior continues, the event recorder will capture video and corresponding data for use in coaching the driver.
"Since using the ActiveVision service, we've been able to dramatically reduce distracted driving by sharing video events in one-on-one coaching," noted Victor Malchesky, Corporate Director of Safety and Compliance for Swift Transportation. Swift has ActiveVision deployed in 14,000 of its trucks. "Many times drivers don't realize they have driving habits that need adjusting until they can see it in an ActiveVision event recording."
Said Sean Saunders of YRC, "We adopted DriveCam with ActiveVision to protect our drivers in more ways than one. We're helping our drivers fine-tune their driving skills, we're helping them stay alert and engaged behind the wheel, and with the video that DriveCam provides, we have a better understanding of the facts, which can lead to the exoneration of our drivers."