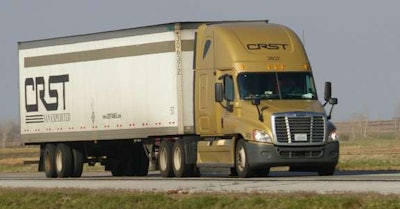 CRST Expedited (No. 23 in the CCJ Top 250) has been granted an exemption that will allow its commercial learner's permit holders to drive in team operations without a CDL holder in the front seat at all times.
The exemption is based on a technicality, in which the learner's permit holder has passed all tests required to receive a CDL but has not yet traveled through his or her license-issuing state to complete the process of obtaining the CDL.
The Federal Motor Carrier Safety Administration said in its Federal Register notice that a learner's permit holder with documentation that he or she passed the CDL skills test can drive a truck for CRST without a CDL holder in the front seat.
"The exemption enables CLP holders to drive as part of a team and have the same regulatory flexibility as CRST team drivers with CDLs," FMCSA said in its notice. The exemption is effective for two years following its Federal Register publication, which is set for Friday, Sept. 23.
CRST applied for the exemption in January and stated the exemption would "allow a CLP holder to participate in a revenue-producing trip back to his or her state of domicile" to get the CDL.
FMCSA said several trucking groups opposed the exemption, including the Advocates for Highway and Auto Safety, Owner-Operator Independent Drivers Association and the International Brotherhood of Teamsters.
Despite the opposition, which was based around a learner's permit holder lacking experience and operating safer with a CDL holder in the front seat, FMCSA said as long as the permit holder has passed the CDL skills test, they are qualified and eligible to receive their CDL. The agency added that if the learner's permit holders had been trained and received their permits in their home states, they could "immediately obtain their CDL…and begin driving a CMV without any on-board supervision."
C.R. England was granted the same exemption in June 2015.