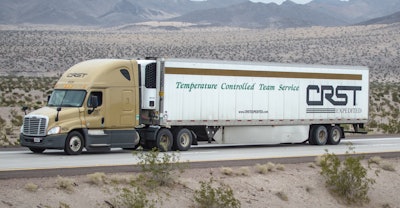 CRST Expedited is requesting the renewal of an exemption that allows commercial learner's permit holders who have passed the CDL skills test to drive without a CDL holder physically in the front seat of a truck, effectively allowing them to drive team.
The Federal Motor Carrier Safety Administration granted the exemption in 2016. Regulations state a CLP holder must be accompanied by a CDL holder in the front seat of a truck while driving on public roads or highways.
Under the exemption, as long as the CLP holder has passed the CDL skills test, he or she can drive in team operations until returning to his or her home state to receive a CDL. FMCSA says through the end of 2016, CRST reported zero accidents to the agency involving drivers operating under the exemption.
CRST is asking for the renewal to be effective for five years instead of two. Last year, C.R. England received a five-year renewal for a similar exemption.
FMCSA is requesting public comment on the request, which can be made at www.regulations.gov by searching Docket No. FMCSA-2015-0480 when the notice is published in the Federal Register on Thursday, Aug. 9.