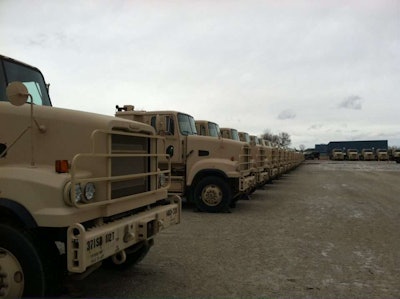 Trucking industry stakeholders and highway safety advocates are on different pages when it comes to the Federal Motor Carrier Safety Administration's proposed pilot program that would allow some under-21 truckers with military driving experience to operate across state lines.
Trucking organizations are mostly on-board with the proposal, while safety advocates say younger drivers will mean more accidents. Military-trained drivers are not representative of other 18-20-year-old truckers, safety groups argue, which would nullify the results of the agency's study, they claim.
FMCSA introduced the FAST Act-stipulated proposal Aug. 19, which would allow military-trained drivers between the ages of 18 and 21 to drive in interstate commerce. Currently, under-21 CDL holders are restricted to intrastate driving.
As outlined in the proposal, the pilot program would last three years, then FMCSA would compare the safety records of the pilot group to a group of 21 and older drivers with similar training and experience.
Several trucking and safety organizations submitted comments to the docket, with trucking organizations generally on-board with the proposal and safety organizations generally opposed to it. Some comments submitted can be seen below:
The Owner-Operator Independent Drivers Association generally doesn't support an under-21 pilot program, but the association says in the case of veterans, it makes an exception. In its comments, OOIDA says the participants in this pilot program will have received much more training that typical entry-level drivers. OOIDA Executive Vice President Todd Spencer says the Entry-Level Driver Training rule – a separate rulemaking – requires just 30 hours of behind-the-wheel training, while the behind-the-wheel training requirements for the military indicate that 153 hours is the average for training.
"Results from this pilot program should only be applied to this program and not to any wider attempts to lower the minimum driving age," Spencer says.
Spencer adds that OOIDA is concerned with the motivation behind the pilot program – whether it's to help military veterans or to "fulfill the economic interests of a few larger motor carriers and a perceived driver shortage."
The American Trucking Associations says it "strongly supports" FMCSA's plan to allow drivers between the ages of 18 to 21 with military driving experience to operate in interstate commerce. ATA says it has advocated for research to see if well-trained, under-21 drivers can safely operate trucks, and it supports the hiring of veterans. The organization adds that the pilot program opens the door to a new driver population that "could provide relief to the current driver shortage."
ATA also mentions several suggestions for the proposed program, including expanding the program to include under-21 drivers that have completed a Professional Truck Driver Institute (PTDI) training program, pre-qualifying of younger drivers by FMCSA before being hired by a carrier and more.
The Truckload Carriers Association says it supports the pilot program, but that it does have questions and concerns about it. TCA says that even though the drivers must be trained through the military, it believes the young drivers must also be employed by companies with safety programs such as electronic logs, anti-rollover protection, forward collision avoidance mitigation and more. TCA also expresses concerns in its comments as to whether there are enough 18-20-year-old military-trained drivers to participate in the program.
Werner Enterprises (No. 11 on the CCJ Top 250) suggests to FMCSA in its comments that drivers in the pilot program complete training on federal regulations, such as hours-of-service, as well as ELD training, before beginning to drive. The carrier says it wouldn't have a problem getting enough drivers to participate in the program, but says the participants would most likely be limited to National Guard and Reservists.
Werner adds that FMCSA needs to clarify what kind of equipment participants in the pilot are supposed to use. The only guidance in the proposal is that participants can't transport passengers or hazardous materials, or double- or triple-trailer combinations or cargo tank vehicles, Werner says, but it doesn't mention what equipment participants should use.
The Truck Safety Coalition, along with the Citizens for Reliable and Safe Highways and Parents Against Tired Truckers, filed comments in opposition of the pilot program. The TSC says data shows 18-20-year-old drivers are more likely to crash, and that only allowing well-trained, experienced military drivers to operate in interstate commerce won't produce useful data as to whether or not all under-21 drivers can operate trucks safely.
The Insurance Institute for Highway Safety (IIHS) says FMCSA should "conduct the strongest possible study of the safety effects" of the pilot and that the agency should be careful of generalizing results of this group of participants with other drivers. IIHS adds that in addition to the use of ELDs, FMCSA should also require the use of onboard monitoring systems.
Advocates for Highway and Auto Safety opposes the pilot program "in the interest of public safety" due to research that shows higher crash rates among 18-20-year-old truckers when compared to 21-and-older drivers. The group echoes the sentiments of other commenters, saying the results of this pilot with military-trained drivers won't be indicative of under-21 drivers without military training.
The National Safety Council says that while it understands the trucking industry's need for more drivers, it believes combining teenagers with trucks "creates an unacceptable level of risk."