A shifting-sands sort of situation marked the rate picture on the spot market with the end of the quarter last week, notes DAT's Ken Harper. While the month of September on DAT Load Boards showed van freight volume 33 percent higher than where it was in 2015, and reefer freight up 27 percent, "rates have not caught up with demand, and that's probably due to the [high] number of available trucks, something I doubt truckers wants to hear."
The typical end-of-quarter bump in volume for vans was just 7 percent last week. "Basically, for vans and reefers, the end of September was much like the end of August," Harper says.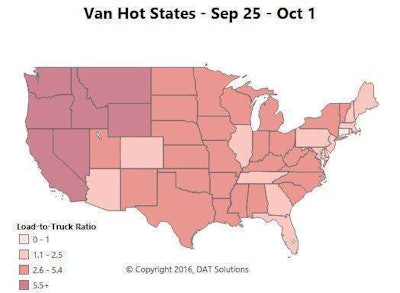 Van top markets: Shippers have been scrambling in recent weeks to reschedule freight moves in the wake of the Hanjin Shipping bankruptcy. That's added to spot market demand in Los Angeles, after two Hanjin ships unloaded there in mid-September. A lot of that freight has started moving toward the East Coast, and shippers continue to shift inventories in an easterly direction, to prevent stock-outs as Christmas draws closer.
Where rates are rising: Outbound rates rose sharply from Los Angeles to Houston, to Denver and to Columbus, Ohio. Hanjin ships also added to rate pressures in other West Coast markets, including Seattle, where rates rose 18 cents per mile on the lane to Salt Lake City.
Fallling: Rates declined last week on lanes originating in Allentown, Pa., and Charlotte, N.C. There is not much freight moving into the Southeast now, because of the hurricane warnings, so pent-up demand could boost rates in the coming weeks. Hopefully, everyone will come through it safely, and with minimum damage to property.
Where rates are rising: More lane rates were up than down last week. Outbound rates got an offseason bump in Florida. Most of the major lanes out of Lakeland and Miami paid better. Rates may prove to have gone up again this week, with shippers having moved freight out of the path of Hurricane Matthew. Rates may well rise after the storm clears, as well, due to pent-up demand in Florida and the Southeast region.
Falling: Twin Falls, Idaho, cooled off after a few weeks of high demand. This could be the end of the potato harvest, but potato eating season continues. Heavy rains hurt rates out of Green Bay, including sharp drops in pricing from Green Bay to Des Moines, and to Minneapolis. Rates continue to trend down in the Southeast, including Atlanta. The lane rate from Atlanta to Philadelphia lost traction last week.