The weekly demand charts from DAT came in a smidge later than usual this week, so I thought I'd host them here on the blog this time around. Data is for the week prior to Labor Day, and the good news is that volume and load-to-truck ratios rose on the spot market and rates followed, especially for vans and reefers. Van rates added 6 cents, and reefers got 3 cents themselves. Flatbeds gained just a penny per mile. All of those gains are as a national average, and closer looks at vans and reefers follow.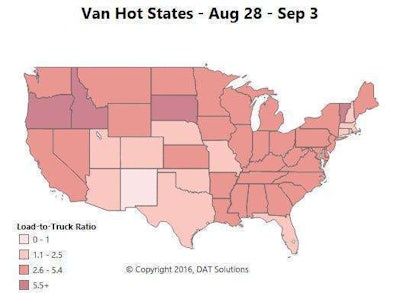 VAN OVERVIEW: Load volume increased throughout the month of August, and rates responded in a big way the week prior to Labor Day. There's often a little extra pressure at the end of the month, and before a holiday weekend, so it could be a one-week trend in some parts of the country. In the northern regions, the trend looks pretty solid, so you can expect to find good van freight at good rates, well into September.
TOP MARKETS: The Midwest is looking good. Chicago and Columbus continued to pick up steam last week. We're used to seeing Atlanta in the top spot for load posts on DAT load boards, but Chicago has been a close second, and rates there are trending up. Dallas volumes are not far behind, but rates haven't responded yet. Outbound rates are rising in Houston, however.
TOP LANES: The biggest gains were on southbound lanes, especially out of the Midwest. The rate from Chicago to Atlanta rose 15 cents to $1.97 per mile. Reefers also got a big boost on that lane. Other southbound van lanes with rising rates: Charlotte to Lakeland, Fla., up 18 cents to $2.29 per mile, and Allentown, Pa., to Richmond, Va., where rates added 18 cents to $2.18 per mile.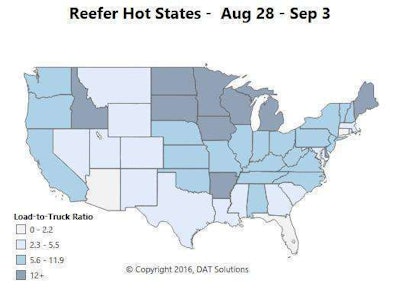 REEFER OVERVIEW: Reefer rates and volumes had been slipping in recent weeks, so recent improvement is a welcome change.
TOP MARKETS: There were a lot more reefer loads moving out of Fresno, Calif., and McAllen, Texas, both of which were supported by harvests of late-summer crops. Hopefully that'll lead to higher rates out of Fresno this week, but McAllen rates moved up already. Rates are also rising in Chicago, which should be a great place to find loads in September.
TOP LANES: Outbound lanes from Chicago paid more last week, including the lane to Atlanta, which was up 21 cents to $2.58 per mile. The lane from McAllen to Dallas in Texas was already up 19 cents to $2.18 per mile. This could be due to produce harvests in the Rio Grande Valley on both sides of the U.S. border with Mexico. Produce also contributed to a 22 cents per mile boost on the lane from L.A. to Denver. That lane is now paying peak season rates, at $2.47 per mile.
Van lane: Chicago to Minneapolis
It's is one of those lanes that can flip in the fall, when you make more money heading from Minneapolis to Chicago than vice versa. Rates were up 16 cents in that direction last week to $1.84 per mile, bringing the two lanes into balance. One of the seasonal commodities is sugar, processed locally from beets that are grown in the area northwest of the Twin Cities. Potatoes are also moving now from the Big Lake, Minn., region, and more spuds will be ready soon in the Red River Valley growing region. Potatoes can go on reefers or vans. You may be asked to run the trip overnight, when it's sure to be cool outside. You'll get about $1,500 for the roundtrip, but if you add a third destination, you can do even better. Net per day will depend on time at load and unload, of course, but a triangle that includes Des Moines, Iowa, can boost your revenue by $400 or $500, while adding only 177 loaded miles to the roundtrip. If you start your trip in Minneapolis, you'll do a little better than if you start in Chicago, but this route works in both directions. Details in the chart below.