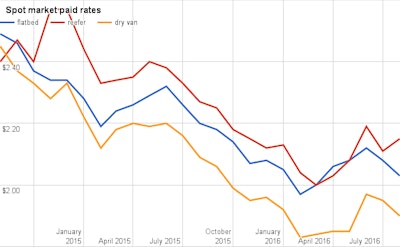 Per-mile rates on the spot market mostly continued to tumble in August, according to monthly rate data from Truckstop.com. Reefer rates were the lone bright spot in the month's rates report, climbing 4 cents a mile. Dry van and flatbed rates both posted declines.
Spot market rates have been on a steady downward trend since the middle of 2014 in all three major truckload segments. Rates saw a brief upward streak this spring, but July and August saw a return to trend.
In August, paid reefer rates (verified rate averages paid to carriers by brokers) grew 4 cents to $2.15 a mile. Compared to the same month last year, reefer's per-mile average was down 12 cents.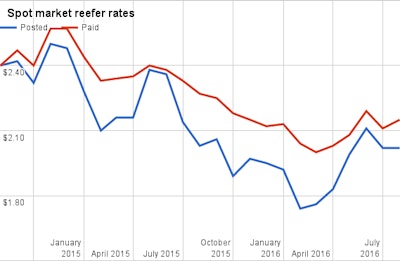 Flatbed rates in August fell a nickel to $2.03 a mile, per Truckstop.com's figures. August's flatbed rates were down 17 cents from August 2015.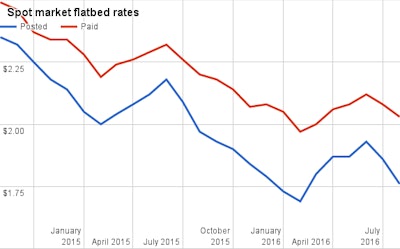 Lastly, van rates also fell 5 cents to $1.90 a mile. Van rates were down 19 cents in the month compared to the same month last year.