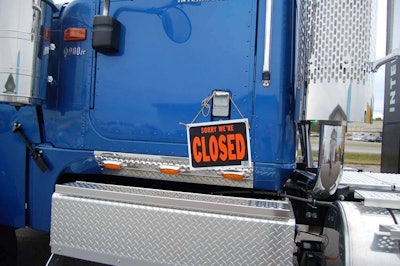 A five-truck fleet out of LaGrange, Ga., has been issued an effective shutdown order by the Federal Motor Carrier Safety Administration after an investigation revealed the company did not adhere to driver qualification, drug testing, maintenance regulations and more.
The investigation into Industrial Transit began after one of the company's trucks hauling Takata airbag components crashed in Maverick County, Texas, resulting in a fatality and extensive property damage.
FMCSA says the truck attempted to take a curve at a high speed, left the road and struck a culvert, resulting in the truck rolling over and catching fire. The fire caused the airbag components to explode, which leveled a nearby house and garage and damaged several other houses in the area, according to FMCSA's order. The agency adds an occupant in the leveled house was killed, and the team drivers of the truck were injured along with a couple in a nearby car.
The agency's investigation found that Industrial Transit didn't comply with "any driver qualification requirements," which included making sure its drivers were licensed and physically qualified to drive a truck. FMCSA says the company allowed two drivers to drive its trucks that didn't have CDLs. Additionally, the out-of-service order states the company didn't "sufficiently implement" random drug testing and that a driver who had refused to take a random drug test was still allowed to drive.
Other violations FMCSA found include the company failing to maintain and inspect its equipment, failing to monitor its drivers for hours-of-service compliance, failing to provide its hazmat employees with hazmat training or in-depth security training, failing to comply with federal safety regulations involving hazmat shipping paper information, and failing to have hazmat security or communication plans in place.
The order states Industrial Transit "…does not have safety management controls in place to ensure drivers are qualified to operate its [commercial motor vehicles], drivers operate its CMVs safely, and its CMVs are properly inspected, repaired, and maintained."