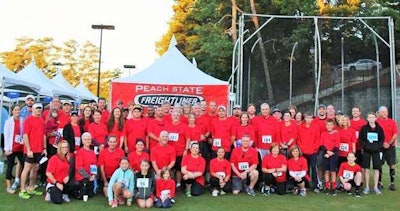 For the sixth year in a row, the Winship Win the Fight 5K Walk/Run raised a record level of cancer research funding. According to the Winship Cancer Institute of Emory University in Atlanta, the event brought in more than $880,000 all told, all of which will support cancer research projects at Winship.
Peach State Freightliner brought out more 50 employees and partners who participated in the race, a record number for the company, which has been a part of every Winship 5K event since its founding. Peach State Freightliner was the event's Hope Sponsor.
More than three thousand runners and walkers tackled the Peachtree Road Race qualifying course on Saturday, Oct. 1, starting and ending on the Emory campus.
"It's always an honor to sponsor and bring out a team for the Winship Win the Fight 5K," added Peach State CEO Rick Reynolds. "We've been a part of this event since the beginning because we believe in the great work the Winship Cancer Institute does for cancer research. We always look forward to this event each and every year."
The Winship Win the Fight 5K is unique because it allows participants to direct their tax-deductible donations to benefit specific cancer research projects based on their personal interests. Donations will be accepted until November 15, 2016. For more information, follow this link.