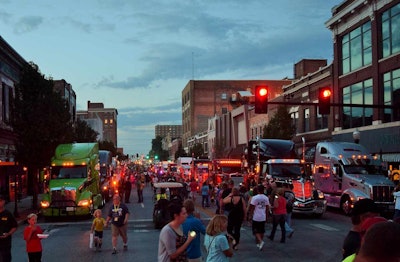 The Guilty by Association Truck Show ended Saturday night with a convoy from 4 State Trucks' location to downtown Joplin, Mo., where local law enforcement closed off Main Street for blocks North and South of 7th Avenue. The convoy, with proceeds benefiting the Special Olympics, broke the Joplin convoy's own previous record, set last year, for number of participating trucks. This year, 403 participated, many of them brought by owner-operators and fleets from the GBATS show, where well more than 500 trucks were shown this year.
As of this morning, the "total raised (so far) for Special Olympics is $102,000!" says 4 States' Bryan Martin, with money continuing to come in from convoy participants and others. He guesses that total may rise by a couple thousand in the end. "Overall, a great weekend for all."
Much of that total came from convoy participants themselves. Front spots were auctioned, with the first couple going to CEI for $7,000 and $3,000 donated to Special Olympics, respectively.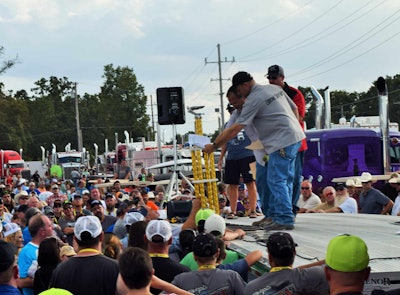 The truck-show awards for Best of Show bobtail and combo were determined by the participants in the show, and both went to trucks that will be familiar to regular Overdrive readers.
The combo win was hauled in by Virginia-based Mike Manuel and his autism awareness truck, a 2015 Peterbilt 389 and Mac curtainside combo. It's pictured here at the Great American Trucking Show, where it scored the National Championship win in the Builder's Combo class: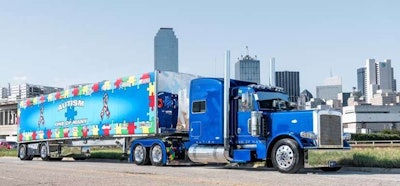 Kyle Cousins' Fleenor Bros. "Ace in the Hole" 2008 Kenworth took the participants' choice Best of Show for bobtail at GBATS. Among enhancements made since the show where it debuted to Overdrive's audience this past July include the pinstriping and Fleenor logo's ghosting on the deckplate. Both are shown below just after a light shower that cooled off the show lot at GBATS Saturday: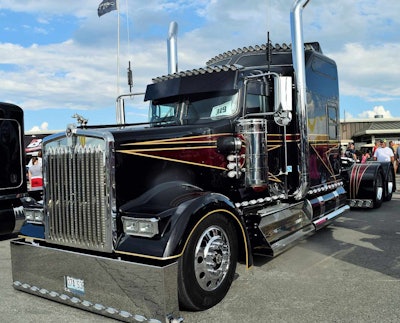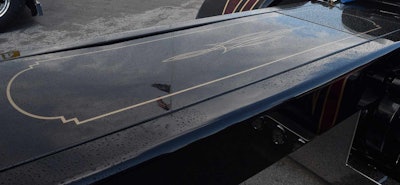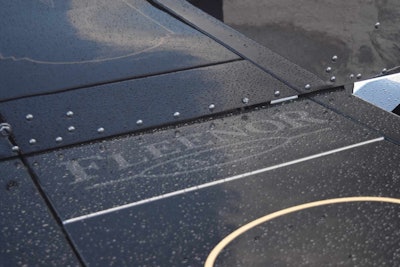 Catch a video run through the "Ace in the Hole" via this link to prior coverage.
The annual Larry H. Martin Award, too, was delivered at the show in advance of the Friday-night on-site truck and tractor pulls. Annually, 4 State Trucks gives out the award to a trucker who goes above and beyond. It's intended, too, to honor the memory of the truck shop's founder. This year, as Brice Martin reveals in audio of the presentation above and at bottom, the award went to Everhart Transportation driver and singer-songwriter Tony Justice.
A surprise to the trucker, Justice said, the award is intended to recognize "those truckers that take trucking seriously," said radio host Dave Amick of Norfolk, Neb., in his introduction of the award itself.
For recipients, Amick added, trucking is "more than a life, it's more than a passion, it's who they are to the core."
The award is "something special," no doubt, Justice said.
Podcast: Play in new window | Download