The 2015-2016 Overdrive's Pride & Polish season concluded Saturday at the Great American Trucking Show, where six trucks and their owners were named the season's national champions. In addition, five other rigs were named Best of Show at GATS' general Pride & Polish event, kicking off the 2016-2017 season.
Click here to read Overdrive's initial coverage of the championship and Best of Show winners.
Following the show's end Saturday, the trucks were taken off-site for beauty shots by photographer Pete Guzzo. See those photos below, along with a full list of winners from the GATS Pride & Polish show.
National Champions:
Best of Show winners: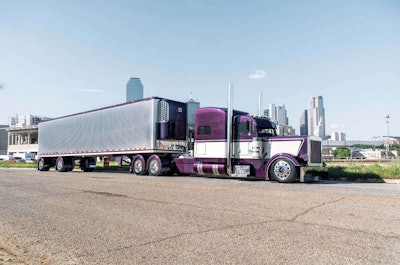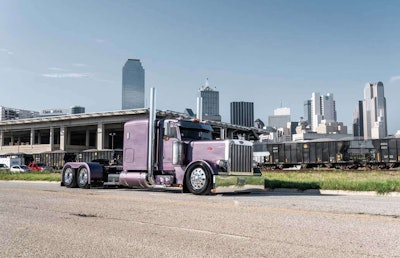 (Not pictured: Best of Show, Builders Bobtail winner — Omar Ruiz's 2000 Kenworth W900)
ANTIQUE – BOBTAIL
1st Place – Wade Wardlaw, Woodville, TX; 1975 White and Copper Peterbilt 359 – "Wade's Pride and Joy"
2nd Place – Geo Cuellar/David Schnautz, Pasadena, TX; 1985 Blue Kenworth K100E – "Clyde"
3rd Place – Pablo Cuellar/David Schnautz, Pasadena, TX; 1973 Blue Kenworth K125 – "Little Kenny"
ANTIQUE – COMBO
1st Place – David Schnautz, Pasadena, TX; 1981 Blue Kenworth W900A/1982 Wilson Livestock Trailer – "A Dream Come True"
BOBTAIL – NEW TRUCK (LESS THAN 50,000 MILES)
1st Place – JW Ray/Werner Enterprises, Omaha, NE; 2017 Blue Freightliner Cascadia – "Operation Freedom VII"
2nd Place – Dustin Graf, Girard, KS; 2017 Black Cherry Peterbilt 389
3rd Place– Allen Boles, Weaverville, NC; 2017 Black Peterbilt 389
BOBTAIL – FIRST SHOW
1st Place – Anthony Hoffman, Irving, TX; 1999 Black and Red Peterbilt 379
2nd Place – Delbert Jones, Sulphur Springs, TX; 1999 Red Kenworth W900
3rd Place – Mike Ostergaard, Salem, WI; 2002 Black Peterbilt 379 – "USMC Tribute Truck"
BOBTAIL – COMPANY TRUCK
1st Place – Jake Lindamood/Lindamood Heavy Hauling, Irving, TX; 1988 Silver and Blue Peterbilt 379 – "The Demolisher"
2nd Place – Mike Faram, Ft. Worth, TX; 2015 Blue Peterbilt 389 – "Da Mistress"
3rd Place – Coy Baker/Wes Ezell, Glenrose, TX; 2017 Black Peterbilt 389 – "Intimidator"
BOBTAIL – 2005 and Older
1st Place – Shane Boullion, Carencro, LA; 2001 Dark Rose Grey Peterbilt 379
2nd Place – Gerald Cruz, San Antonio, TX; 1999 Orange and Black Peterbilt 379 Service Truck – "Ghost"
3rd Place – Gilbert Velasquez/GoTex Trucking, Dallas, TX; 2000 White Peterbilt 379 – "Special FX"
BOBTAIL – 2006 and Newer
1st Place – Sean McEndree, Sr., Salado, TX; 2006 Purple Peterbilt 379 – "Band of Brothers"
2nd Place – Keith Smart, Jr., Juneau, WI; 2015 White and Orange Peterbilt 389 – "Talk of the Town"
3rd Place – Corey McCaslin, Port Washington, OH; 2015 Black Peterbilt 389
COMBO – NEW TRUCK
1st Place – Gabe Rosenthal/Stevens Transport, Inc., Dallas, TX; 2017 Black Kenworth T680/2017 Utility Reefer
COMBO – FIRST SHOW
1st Place – Bradley Wacks/Army Air Force Exchange Service, Enon, OH; 2011 Red Pearl Freightliner Cascadia/2010 Hyundai Van
2nd Place – Charles Compton/Army Air Force Exchange Service, Dallas, TX; 2014 White Freightliner Cascadia/2014 Hyundai Dry Van
3rd Place – Tommie Weeks/Aaron Davidson, Sebastopol, MS; 2016 Blue Kenworth W900/2016 Reitnouer
COMBO – OPEN
1st Place – Freddy Velasco, Sulphur Springs, TX; 2003 Purple and Green Peterbilt 379/2003 Great Dane Reefer
2nd Place – Oscar Ochoa/Clark Freight Lines, Pasadena, TX; 2012 Black Kenworth T660/1995 Utility Curtainside
INTERIOR – CAB ONLY
1st Place – Keith Smart, Jr., Juneau, WI; 2015 White and Orange Peterbilt 389 – "Talk of the Town"
2nd Place – Jake Lindamood/Lindamood Heavy Hauling, Irving, TX; 1988 Silver and Blue Peterbilt 379 – "The Demolisher"
3rd Place – Freddy Velasco, Sulphur Springs, TX; 2003 Purple and Green Peterbilt 379/2003 Great Dane Reefer
INTERIOR – OEM SLEEPER
1st Place – Shane Boullion, Carencro, LA; 2001 Dark Rose Grey Peterbilt 379
2nd Place – Sean McEndree, Sr., Salado, TX; 2006 Purple Peterbilt 379 – "Band of Brothers"
3rd Place – Mike Faram, Ft. Worth, TX; 2015 Blue Peterbilt 389 – "Da Mistress"
BEST INTERIOR – LIMITED MILEAGE OR BUILDERS CLASS
Marty Colvin/Kary Bryce, Sibley, LA; 1986 Burgundy and Grey Peterbilt 359/2016 Etnyre Tanker – "Smoking Section"
PAINT – BOBTAIL
1st Place – Sean McEndree, Sr., Salado, TX; 2006 Purple Peterbilt 379 – "Band of Brothers"
2nd Place – Shane Boullion, Carencro, LA; 2001 Dark Rose Grey Peterbilt 379
3rd Place – Jake Lindamood/Lindamood Heavy Hauling, Irving, TX; 1988 Silver and Blue Peterbilt 379 – "The Demolisher"
PAINT – COMBO
1st Place – Freddy Velasco, Sulphur Springs, TX; 2003 Purple and Green Peterbilt 379/2003 Great Dane Reefer
BEST PAINT – LIMITED MILEAGE OR BUILDERS CLASS – BOBTAIL
Omar Ruiz/Yogi Ruiz, Midland, TX; 2000 Black and Blue Kenworth W900L – "Project TOC"
BEST PAINT – LIMITED MILEAGE – COMBO
Marty Colvin/Kary Bryce, Sibley, LA; 1986 Burgundy and Grey Peterbilt 359/2016 Etnyre Tanker – "Smoking Section"
ENGINE
1st Place – Jake Lindamood/Lindamood Heavy Hauling, Irving, TX; 1988 Silver and Blue Peterbilt 379 – "The Demolisher"
2nd Place – Shane Boullion, Carencro, LA; 2001 Dark Rose Grey Peterbilt 379
3rd Place – Keith Smart, Jr., Juneau, WI; 2015 White and Orange Peterbilt 389 – "Talk of the Town"
BEST ENGINE – LIMITED MILEAGE OR BUILDERS CLASS
Omar Ruiz/Yogi Ruiz, Midland, TX; 2000 Black and Blue Kenworth W900L – "Project TOC"
BEST OF SHOW – LIMITED MILEAGE BOBTAIL
Best of Show – Candice Cooley, Hazelton, ID; 2017 Red and White Peterbilt 389 – "Patrone"
Runner Up – Alan LeSueur/KC Cousins, Carthage, MO; 2016 Cream, Brown and Burnt Orange Kenworth W900L – "The Duke"
3rd Place – Charles Self, Neosho, MO; 2004 Legendary Red Peterbilt 379X – "Big Red"