If Bryan Martin and crew keep breaking records, this show is going to spill over from Missouri, on into Oklahoma. I can honestly say I have never seen more trucks in one place at one time. The official count from 4 State Trucks was 510 trucks registered at the show, with a record-breaking 422 participating in the 2017 GBATS Special Olympics Convoy. It was a chrome lover's paradise, and the 9th annual Guilty by Association Truck Show is in the books!
As always, generosity, fellowship and fun were the themes of the show. It was scorching hot both days, but even the temps didn't keep thousands of people from coming together to enjoy the diverse collection of gorgeous trucks, both old and new.
Under the "fun and new" categories, because the Martins always try to have at least one fun, new thing at each event, the lumberjack show was something completely different. Timberworks hauled in a set on a flatbed trailer and had lumberjacks throw axes around, chop stuff up and use chainsaws like whittling tools. The downtown show featured some real, live log rolling. It was really pretty amazing, and not something you'd expect to see at a truck show.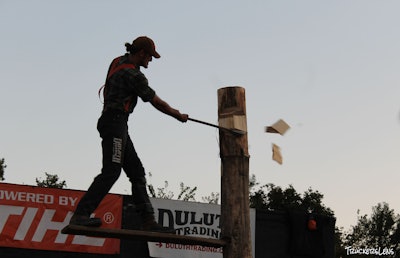 Among the beauties lurked the beasts, and they were beauties in their own right. The Rat Rod build-off was one of my personal favorites this year. Charlie Pacheco and Team Cutters took the custom trophy with a custom build that was rattier than the rest, and a piece of true artwork. I'm loving the rat rods, I think I mentioned that.
The Special Olympics convoy had a record-breaking 422 trucks and raised $105,000.00 for Missouri Special Olympics. That's a lot of zeros, and a lot of heart from the trucking community.
Once again, we'd like to thank the Martin family for extending their hospitality to the trucking community, and can't wait to see what's in store for the big 10th anniversary celebration next year!
Other GBATS 2017 winners:
Larry Martin Memorial Award: Harry Kilgore
People's Choice Award: Dewayne Pendley — 2015 Yellow Pete 389
Best of Show — Combo: First Class Services' Pete 359
Spirit of GBATS 2017: Joe Seaman and team doing Big Rig Burnouts