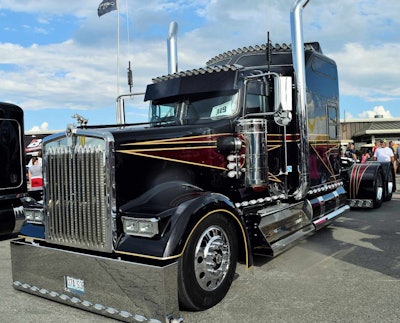 Regular readers will recall Fleenor Bros.' Kyle Cousins from prior coverage of the Keworth Icon 900 Cousins and company gave the full custom treatment after buying the unit shown at the 2015 unveiling of the Icon at MATS. My "first-" and "second-look" Youtube vids at that Icon have been among the more heavily watched on Overdrive's channel this past year and more. Catch them at bottom of you've missed them as yet.
I caught up with the owner of the Carthage, Mo.-based explosives/hazmat-hauling small fleet Friday at the Overdrive's Pride & Polish event in Tenn, the final one before the big national championship at GATS next month. Cousins and company were hopeful to punch a second ticket to the championship (the Icon locked in its presence long ago) with this 2008 Cummins-powered W900, a truck you may also recognize for its appearance on the show circuit in years past.
Cousins said he pulled it out of the working fleet with intentions to repaint it, when things got a little more complicated. In addition to marbleizing the red portions of the paint scheme, a variety of new additions he discusses in the new video (at the top) were made as well.
As for its name, "Ace in the Hole," it's something of a reference to the folks in the office doing the bulk of the load dispatching. That'd be Cousins and two others, all of whom are drivers themselves. A common joke — and reality — amongst the three of them: "If no one else will do the load, we always have an ace in the hole," Cousins says.
This truck, assuming it sits out most of the routine hauls in the coming year for the limited-mileage categories of the P&P circuit, will no doubt fit that bill as well.
Views on the company's custom Icon 900, competing in the national championship, follow after and before Fleenor's ownership of the unit.
Before:
After: