The first-annual Guilty by Association Truck Show included 46 registered trucks, plenty to make it quite a show then, around the time of the recession. In the years since, it's grown by staggering proportions, this year to feature more than 550 registered trucks, said 4 State Trucks' Bryan Martin last night during his introduction to the show's associated truck and tractor pulls. Speaking of which:
But here, really, it's the displayed Class 8s and their drivers who really speak to the meaning of the event, from opportunities to shepherd in the future of trucking remarked upon by owner-operator Steve Hurley in the story from yesterday to the business relationships created, something an old contact of mine, Dave Marti of Forrest, Ill., emphasized when talking about his many-years-long participation in the show now. "I've been fortunate to win a lot of trophies" over the years in a variety of shows, Marti told me, "but the really important thing is the relationships you build."
Sometimes, though, the trucks on display tell stories of their own.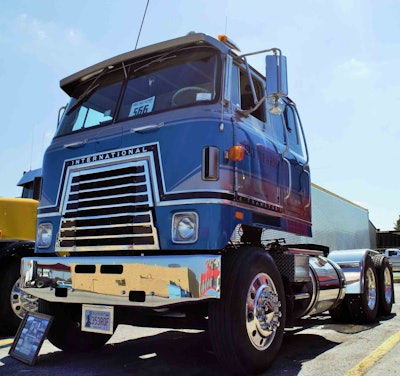 I still haven't caught up with the owners on hand at the show with this beautiful 1976 International Transtar. But the small framed display on the passenger-side well illustrates a tale of triumph from near-ruin September 10, 1987 in Pratt Kansas:
Pratt County Emergency Medical Service personnel and members of Township 12's Volunteer Fire Department worked strenuously for about 1.5 hours Wednesday afternoon freeing an Oklahoma truck driver from the cab of his truck following an accident at 5-Mile bridge east of Pratt. The driver, Jack Kelty, 60, of Stillwater, Okla., was eastbound on U.S. 54 when the right front tire on the 1976 International tractor separated. According to Kansas Highway Patrol Trooper Jack Ververka, Kelty stated that when the tire blew, he tried to keep the truck against the bridge to avoid on-coming traffic but then lost control and veered into the north ditch where the truck loaded with wheat overturned. The accident occurred at about 12:45 p.m. After being freed from the wreckage, Kelty was transported by ambulance to Pratt Regional Medical Center and later was transferred by a LifeWatch helicopter to Wesley Medical Center in Wichita. Kelty was listed in fair condition this morning with a fractured pelvis and bruised ribs.
Here's a look at pictures surrounding this newspaper clipping: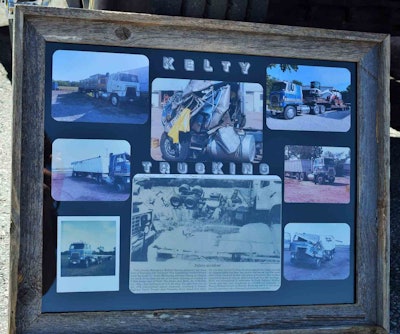 This one's come a long way back indeed. A few further pictures follow: