It took a little while after I came upon the owner of this beautiful 1996 KW, hauling mostly oversize steel beams on a flatbed in the Southeast leased to Nashville-based Fleet Movers, Inc., for me to realize he represented a second generation in the custom rigs coming out of the Southeast. Jay Holsomback was parked in a prominent line right on the road next to the Pilot across from 4 State Trucks' shop out at the Guilty by Association Truck Show this past weekend, and when he told me, finally, his last name, I made the association with his father, Neal, owner of one of the classics of Overdrive's Pride & Polish and also a former organizer of the series and judge.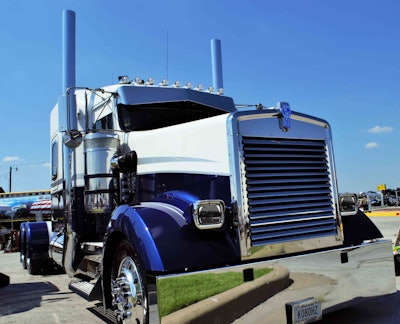 But while that provides a sort of personal introduction to Jay, it doesn't get to what's most remarkable about my chance meeting with him there. The truck itself is nothing short of a work of hardworking art, powered by a 550-hp Cat with an 18-speed transmission, 3:55 rears and a 305-inch wheelbase. He's had the truck since December of 2004, and he'd planning a variety of custom work since 2007 — the recession, however, in 2008-09 intervened, and getting back flush in the business took some time.
But as he notes in the video above, the truck's been on the road as it is today since March of 2015, and needless to say it's turning heads with the stretch, a Jones Performance hood, WTI fenders, a variety of stainless from 12 Gauge and an immaculate interior.
What he doesn't get to detailing in the video, however, is the one-off filler panel built by the Full Pull Customs shop nearby to where Holsomback lives in Georgia (Sugar Valley). The shop's operator builds a variety of small custom parts, including "light bars, visors, panels," Holsomback says, including the light bar at the rear of his rig. Likewise the filler panel between the fuel tanks: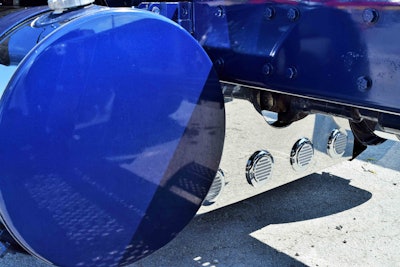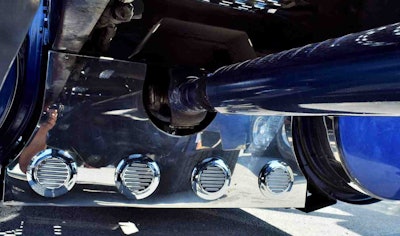 It's fitted with Trux Flat Line LED rounds, also on the back of the sleeper. "It was the first one he'd built," Holsomback says. "And he built my light bar on the back. We put the fenders on together as well."
After we talked, Holsomback was headed out for a shoot for 4 State Trucks' annual calendar, he said, so look for more of this rig in the future, no doubt. Enjoy some further views below, and in the video up top, of course.