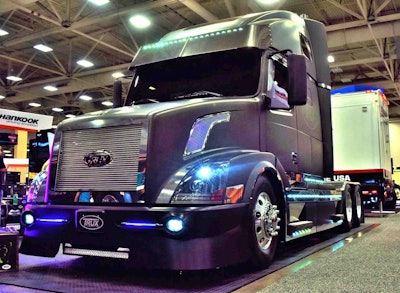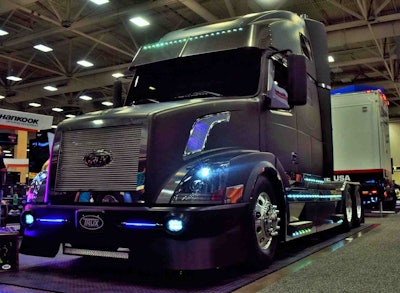 It's not every day you come across a custom Volvo among the builds worthy of the floor of an Overdrive's Pride & Polish, and this matte-black vinyl-wrapped 2006 sure stood out at the Great American Trucking Show. It wasn't among the rigs competing for the national Pride & Polish championship, but rather a build from past competitor Josh Foster, native of Batesville, Ark., and current Central U.S. Account Manager for Trux Accessories.
As Foster details in the video run through the many mods on the unit, this is the second time he's done a full custom build-out on it. It was previously a project of his for Bad Boy Mowers when he headed up the Bald Knob, Ark., Chrome Shop, closed a few years back, he says. When he told the folks at Trux he wanted to put together a project Volvo to showcase the company's custom parts — including on this unit most significantly the company's LED Volvo headlight options — he well-remembered the Bad Boy unit and sought it out again.
The rest is history. When we talked at GATS, he was offering the unit up for sale following its tour of the 2016 show circuit. There's a handshake buyer in line at present, he says. But, hey, you never can tell with such things, can you….
Here's a link to the Quebec-headquartered Trux website. Enjoy the video below. Find the sale sheet detailing the full specs at bottom.