Regular readers may well recall this longtime trucker from coverage of past regional shows here in Tennessee or the "Driver Shortage Alarm" feature from earlier in the year. Cline Everhart is one of the many forces behind the Greenville, Tenn.-based Everhart Transportation fleet (around 70 trucks last time we talked), and he showed up in relatively nearby Crossville last month for the Tennessee edition of our annual Pride & Polish series of truck-beauty contests.
Call the matched pair of sorts that he brought along "brothers from another mother," maybe, a 2000 Freightliner Argosy and the 2007 600-hp Cat-powered Kenworth W900 you see above (placing 1st and 2nd, respectively, for paint). The latter (pictured above) was a Graebel Van Lines truck before Cline bought it a couple years back. It had the old white/blue color scheme, he says, but most of the other elements were there, included the integrated design of the Bentz (now Bolt Custom Trucks) 130-inch super sleeper.
"This one will spoil you," he said, with all the comforts of home on the interior, though Everhart avoids using the RV-style toilet unless it's an emergency. "The shower/sink is great on the road."
Drawbacks? 41,000 lbs. is about the upper legal limit for payload. "I never really wanted a big sleeper until I saw this truck," he says.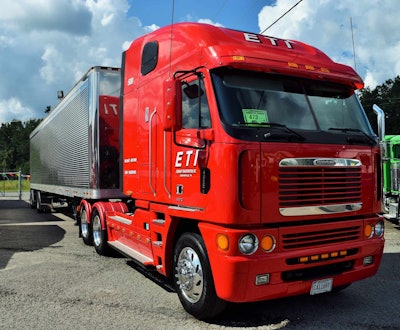 As for the Argosy, "I'm an old cabover guy," says Everhart, and this one he bought from the Georgia Cumberland Conference of the 7th-Day Adventists, who'd pulled a furniture van with it. "It hadn't been used all that much" when he bought it in "2011-12 or so," he says. Today, it's got just 425,000 miles behind it, powered by a 500-hp Detroit Series 60 and a 13-speed transmission.
A few more pictures follow.