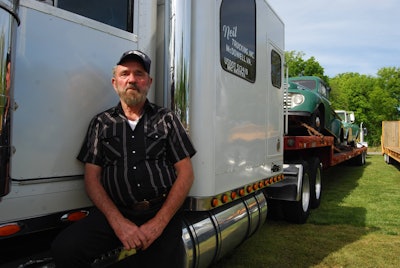 It was a great day out at the Southeastern Regional Truck Show at Chilhowee Park in Knoxville, Tenn., for Neil Trucking independent owner-operator Robert Neil (pictured) of McDowell, Va., who hauls flat freight in large part for Rockingham Steel of Harrisonburg, Va. He's showing his duo of respective 1985 (gold) and 1986 (white, pictured below) Marmon tractors in addition to, behind the 1986 model on a Fontaine stepdeck, a 1949 Ford F3 and 1968 Chevy C10.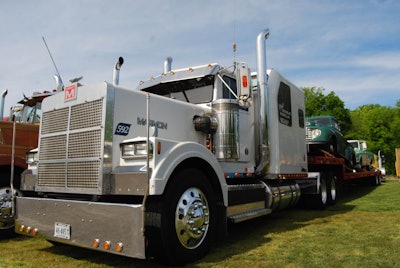 He's one of many operators who will be on hand with custom and/or antique trucks throughout the day today at a show that owner-operator Ted Bowers (also president of the American Truck Historical Society's Smoky Mountains chapter) spearheaded this year to bring together a total five ATHS chapters for something of a super-regional show.
Bowers' hopes, which I wrote about last month, were for in the neighborhood of 200 trucks to fill the park to bursting. If today's opening numbers are any indication of success, I'd say he's well on track to hitting that goal today if, as expected, late registrants hit the sprawling park to add to the ranks.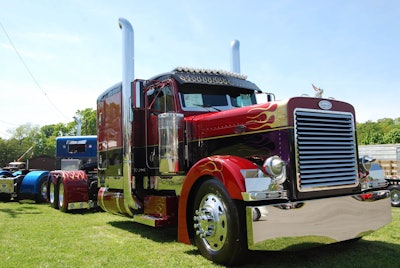 There is no competitive element in the show — "I give out two plaques," says Bowers. "One for the oldest truck brought, and another for the most miles driven" to get to the event. All the same, you'll see some serious show-quality rigs (see Tennessee-based Cooper Recycling's 1996 Pete 379 — also pictured, right — in the gallery below) as well as a wealth of treasures from the trucking days of yore, many restored to a condition pristine beyond the years.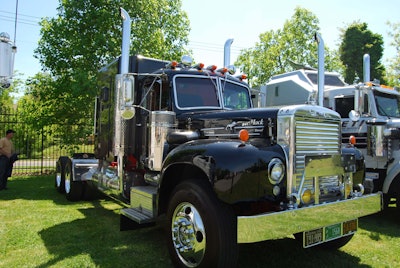 Check out, for instance, in the gallery, a couple such treasures: Ball Ground, Ga.-based small fleet owner-operator Randall Howell's Howell Supply 1960 Mack B75 tractor (pictured here; Howell hauls in a 1986 Mack Superliner today), modified with a 58-inch sleeper, a 1978 Cummins 400 engine and more, as well as the Everhart Transport Inc. (ETI) of Greeneville, Tenn., 1979 Pete 352H cabover, powered by a V8 Detroit engine, among others.
And if you're hauling down I-40 through Knoxville today, stop in if there's time off exit 390. Look for the guy in the funny hat taking pictures. Enjoy the gallery below. . .
[imagebrowser id=30]