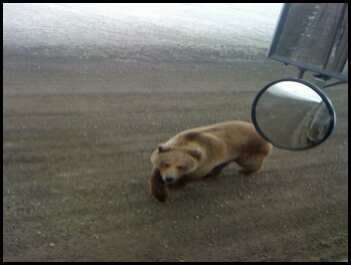 Next time you encounter a bear with an attitude, remember you may well not be dealing with a happy man — or woman, as it were.
As a highway hauler, your occupation is ranked far ahead of "Highway Patrol Officer" and "Police Officer" in CareerCast.com's top 200 job rankings this year. Smokey Bear came in at 157 and his more local variant at 163, while since I wrote in February 2011 about the rankings, listed from "best to worst" and including classification titles from the Bureau of Labor Statistics, there's been no shortage good news relative to the truck-driving profession.
"Truck Driver" gained nearly 50 spots in the rankings this year, moving from 171st to 128th, but still falling slightly behind the two occupations I mentioned last year as surely not more favorable than being an on-highway hauler, namley "Sewage Plant Operator" and "Nuclear Decontamination Technician," 114th and 115th respectively, and both of which probably still rank higher simply for the fact of their general nondesirability — hiring outlook ratings assigned to each of these professions are among some of the highest in the list, reflective of a very low supply of individuals to do the work. I'd guess.
CareerCast's metrics include the following four factors in determining the rankings, for what it's worth: Average income, typical work environments, stress, physical demands and hiring outlook.
Truck driving gained on the list due to a jump in the ratings for the last of these factors over the past year, given growing freight pools and all the press a perceived "driver shortage" (I know, I know, I don't like the term either) has gotten.
Meanwhile, my own occupation, represented in the list as "Publication Editor," continued its move down, from No. 80 to 118th. (I'm not complaining, though if this trend keeps up I may find myself behind the wheel yet!)
Check out the full list at CareerCast.com.
Watch for updates from the Southeastern Regional Truck Show in Knoxville, TN
I've written about the show here in the recent past — it's the combined effort of several regional American Truck Historical Society chapters and has been garnering big interest from big-truck enthusiasts from all around the region. If you're not there yourself, I'll be sharing some updates/pics from the scene throughout the day via my Twitter feed, primarily: https://twitter.com/channel19todd. The show will be ongoing through Saturday, if you're in the region and want to stop in at Chilhowee Park in Knoxville. Here are the details.