Mid-America had to start somewhere. –owner-operator Ted Bowers, president of the American Truck Historical Society's Smoky Moutains chapter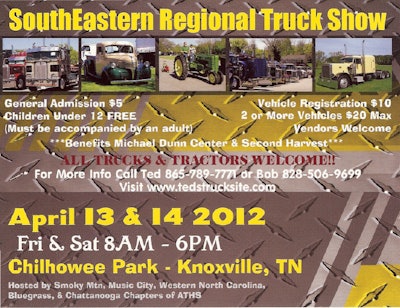 The show about which Bowers had those thoughts for me is a joint venture with his ATHS chapter and several others in the Southeast, and it's coming up quick: April 13-14 in Knoxville. Bowers made his comparison with the giant Louisville trucking show after noting that he expected more than 200 trucks to enter the Knoxville event.
Some of those I've seen in recent memory, and if you've got a taste for the equipment that powered the trucking business throughout its history, I'd make plans to attend this one, if not show something in it yourself. Click through the flyer in this post for more information on how to register for the event if you can be there (and hey: Leland Martin is scheduled to perform on the Saturday of the show; hallmark of a good trucking event).
Meet some of the ATHS Music City and other regional chapter members here. Check out some of those trucks I was talking about here.
'Talented Truckers' update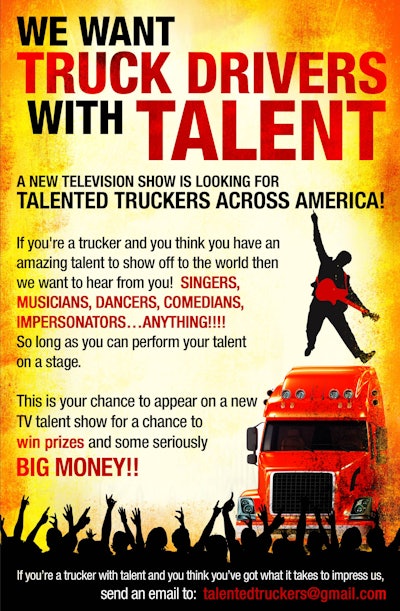 Speaking of flyers, remember this one?
After I posted this call for potential participants in the to-be "Talented Truckers" TV show last November, says Shed Media's Rebecca Greenberg, you responded, and today Greenberg is going through all she's gotten from drivers and contacting potential performers directly, she says.
The company's gotten the OK to go ahead with the first episode, which will see an array of drivers performing all manner of acts before a panel of judges (to include John Ratzenberger, aka "Cliff" in Cheers and the voice of "Mack" the truck in the Cars series of films) at a Southern California TravelCenters of America location, she adds.
One important difference from my original post: for this first installment, the company will be relying on driver-performers to get to the location on their own dime on an as-yet-to-be-determined date in mid-April, Greenberg says. Consider the word passed. I know a lot of folks were interested in hearing more about this potential show's development.