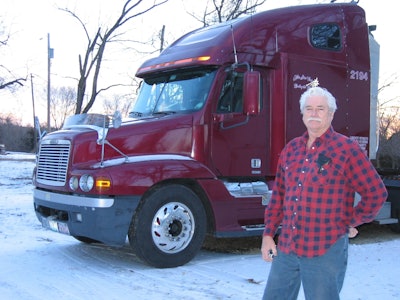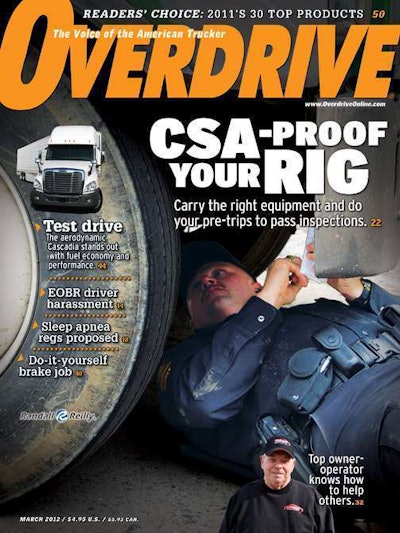 I wanted to highlight a maintenance tip today you may have missed from owner-operator Gordon Alkire, leased to Landstar, down in the comments section on my "CSA-proof your rig" cover story for this month's Overdrive (if you haven't read that story yet, find it here in text or in digital mag format here). Essentially, Alkire's engineered a solution to the problem of needing to get under the truck to grease front and rear suspension components with a system he says he's spent a mere $75 on.
"This is not a commercial system but a homemade one," says Alkire. "Kudos to Bill Marciniac," a close personal friend of Alkire's and a "really good mechanic and owner-operator. It is his idea, and he furnished and drilled the blocks for me…. He has the same system on his truck."
And not only does it keep you off the ground, says Alkire, but helps avoid tickets for excess oil and grease: "Yes, you can get a ticket for excess grease and/or oil on the truck. Stupid, I know, but with the economy as it is and towns and states misspending our money, it is to be expected."
Alkire says Marciniac's gotten several DOT inspector compliments on his system over the years for its cleanliness, a quality that can go a long way toward avoiding detailed inspections at the scale house. It's "a sign that he does his best to take care of his equipment."
Following find Gordon's explanation of the system as well as several pictures he took and sent to me. Next step, he says: the suspension of his 48-foot dry van.
How-to: Build a closed greasing system, by Gordon Alkire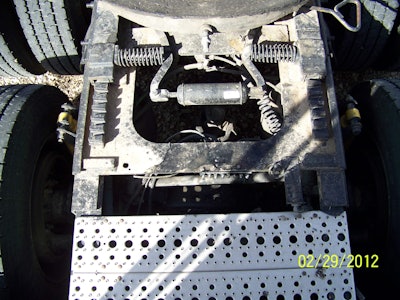 The system is comprised of several solid aluminum blocks about 1.25-1.5-inch square and about 6-8 inches long. Aluminum is easy to drill and lightweight. I use three blocks on the tractor. One block for the rear (set-up pictured at right and in next pic below) and two for the front end due to the many moving parts in the steering assembly and to keep the lines as short as possible.
The blocks are drilled completely through and then thread-tapped to accommodate the brass fittings on the bottom and the grease Zerks on top. This allows grease to pass through unimpeded. It would not hurt to drill and tap a couple of extra holes just in case one strips out at a later time. Don't forget to drill mounting holes in the blocks also.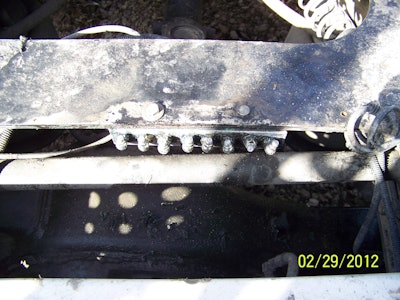 It is not recommended to use T fittings in the lines, as you will not know if the two fittings are getting equal grease or not. One may be getting all of the grease and the other none. That is not your goal.
I bought a 100-foot roll of quarter-inch plastic line to use on the system, a bag of quarter-inch brass compression fittings for both ends. Make sure brass fittings and Zerks are the same size and the threads match. I bought several packages of Zerk fittings. (Set up on rear shown in detail at right.)
Don't forget to be sure to check the Zerk sizes and threads, as many look the same but are not.
You can use some of the grease fittings you take off the brake and slack adjusters and put them on the blocks instead. I prefer the 45-degree-angle ones to ease the position of the grease gun.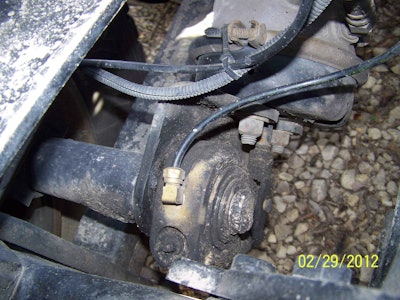 I bought several rolls of plastic loom to protect the lines from road debris and rubbing damage, likewise a large package of 10-inch black UV-resistant plastic ties to fasten the lines up in several places each. Don't forget to allow for suspension movement.
Once you get the length of line for each fitting measured, hook the block lines up first. Be sure to have the fittings installed on the brakes and other grease points underneath, but do not hook those lines up yet. Once you're ready, and all lines are in place, on the block begin to apply grease one fitting at a time. When you see grease come out of the end of the line, stop. (Line to slack adjuster in rear pictured here.)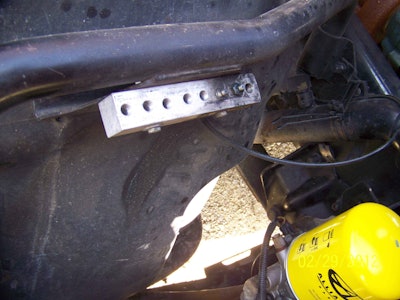 Now hook up the line to the fitting and then apply grease again to be sure air and the grease is getting into the unit. Do this for each fitting until all lines are greased and hooked up. You're now nearly done. How you put the loom on the lines is however you want to do it, whether after all the lines are hooked up to your satisfaction or as you go. I found it easier to wait until the last thing to be done and that way I can see if I need to redo any plastic ties or locate and fix a rub spot that may need attention.
(Pictured at right: block on front passenger side setup — "So far it is the upper grease fitting on the king pins only," Alkire says, noting that's the one the truck-stop greasers are likely not to do.)
IMPORTANT: Be sure you leave enough line per fitting to allow for movement on the suspension system and that you allow for fastening points.
WORD OF CAUTION: Grease tends to stiffen up in cold weather, so greasing with this system in cold weather may be very difficult. Lines can come off if extreme pressure is applied. Wait until you get to a warmer climate to grease your unit.
I hope this idea helps someone else keep their truck neatly lubed and in passing condition. –Gordon Alkire