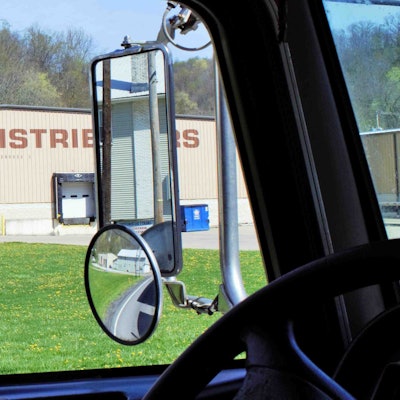 Cold-weather issues, take one. Enquiring minds among readers want to know:
I have had my convex mirrors crack in the wintertime more than once and was wondering if I am the only one and what people have found to stop it.
I put the question to owner-operator Mark Kirbyson yesterday when he called to note he'd been through his first DOT inspection with an ELD — Kirbyson's small fleet is on the BigRoad system for e-logs — and had come out with a clean inspection in New York state. "The officer," he said, only had one problem with his operation. "The tablets are $500 tablets and she didn't want to drop" his.
(If you missed the Overdrive Radio podcast with Kirbyson from Tuesday, catch our conversation about, among other things, "planning better" in a not-so-perfect world, via this link: "I have not seen safety" as a result of ELDs, he says, "but I have seen loss of income.")
For convex mirrors, provided they're the very familiar manual style, he's dealt with cracks over the years himself, particularly in winter. What's happening is moisture, with nowhere to drain, gets trapped between the back of the mirror and the housing over time, rusting fastening screws possibly putting pressure on the mirrors. When freezing temps hit, then, the moisture solidifies and expands, putting more pressure on the mirror, in some cases cracking it.
Kirbyson has done a couple different things in years past as a preventive measure. When installing replacement mirrors, he adds clear silicone around the fastening mechanism and around the edge of the housing to prevent entry of moisture. Alternately, using a very small drill bit, drill a small hole in the bottom of the housing of a mirror already in place to allow moisture to escape when it does get behind the mirror, with basic gravity, he says.
On his 2007 Pete, today he has electric mirrors, both for the flat and convex mirrors in the assembly. "If you break a bottom convex mirror" in such an electric set-up, he believes, "you've probably hit something," or something has hit it, "and it stressed the frame." Once that happens, pressure on the mirror can build up, with temperature shifts then causing cracks.
Anyone else here have other ways of dealing with this problem? Drop a comment below.