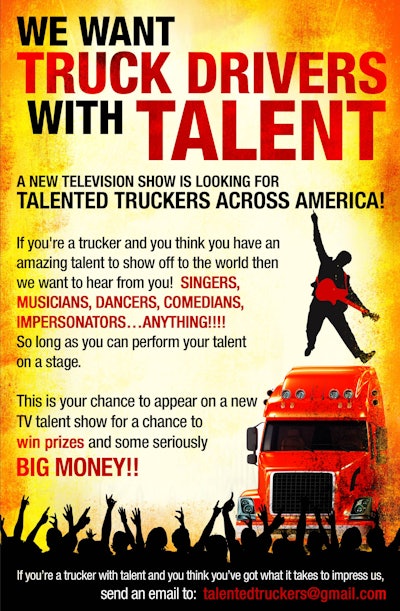 A television production company has a rather off-the-wall idea it's helping one of the major cable channels develop — it wants to create a talent-competition-type series (a la American Idol, Dancing With the Stars, et al) that plays out on location at, well, a truck stop. And in the spirit of radio truck driver talent hours and other such showcases, they want the crooners, musicians, comedians, dancers, jugglers, you name it, among the nation's long- and short-haul public to be the stars.
And: should you end up being a part of it all — you'll get paid pretty well, producers say. And they've assured me, fyi, that the goal is performance authenticity, in the end, not ridicule.
They're taking applications for drivers to be part of the competition as of now. Details follow and are in the flyer pictured here.
Here's what they say:
SINGERS, RAPPERS, MUSICIANS, DANCERS, COMEDIANS, IMPERSONATORS, VENTRILOQUISTS,
MAGICIANS, ACROBATS, JUGGLERS…ANYTHING!… So long as you can perform your talent on a stage!
Send an email to: talentedtruckers@gmail.com

Please include the following information:
Your name.
Your talent.
How long you've been a trucker
A brief description of who you are and how you discovered your unique talent.
A recent picture of yourself.
Contact phone number.