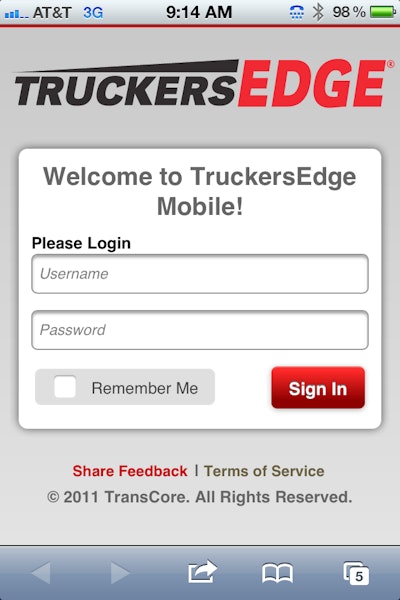 All owner-operator subscribers to the TruckersEdge.net load-board service from TransCore can look forward to a new smartphone-optimized mobile site to launch officially late this year or early next, says Transcore product manager Scott McCollister.
The screenshots here from the html5 app that enables the enhanced look and feel of the board on all major smartphone platforms will give you an idea of the added ease with which you'll be able to navigate the TruckersEdge tools — or those of 3sixty Express and 3sixty Power, if you're a small fleet or other carrier utilizing those services.
In the meantime, Nov. 14 the company will begin offering access to the mobile site in a testing capacity to interested TruckersEdge subscribers. If you're among the 6-10 percent of users, McCollister says, that already utilizes the site on a phone or tablet, to be a part of the testing just get in touch with the folks at TruckersEdge via (866) 487-8253.
The mobile site will include, McCollister says, access to broker credit/days-to-pay ratings upon launch, and for "enhanced" package members will later also include contract lane rates.
Transcore's choice to build the mobile site rather than a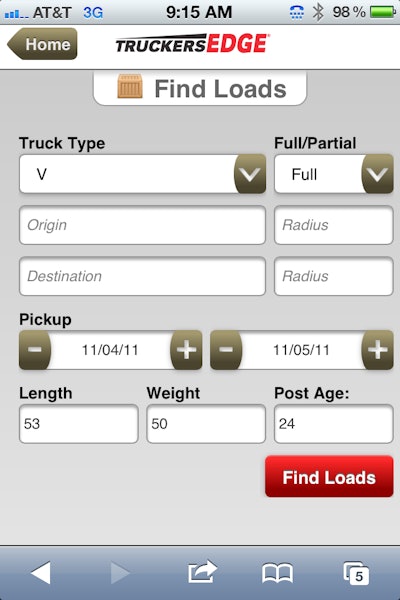 series of smartphone-platform-specific apps for optimizing the board for phones is one I covered back in the spring, you'll recall, along with the Android release of the company's My DAT Truck Stop app, now called My DAT Trucker Services to more accurately reflect the multiplicity of functions available within the app. (It's also now available on the iPhone as well).
Since its launch, it's been downloaded more than 40,000 times, McCollister says, with a 4.5 out 5 stars rating in the Android marketplace. "We're going to be adding some new features" in the new year, says McCollister, including the ability to search DAT loads not just from current location but specificially input locations, a boon to operators looking to plan loads ahead of time with the app.
For more, check out coverage of it and other freight-matching apps that's part of Truckers News' current cover story surveying the trucking apps landscape.