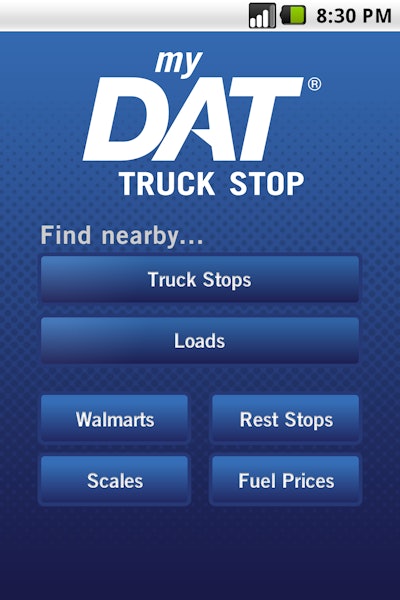 Coming in just a couple weeks is the My DAT Truck Stop app (pictured) from freight matching service provider TransCore, operator of the oldest load-board service out there in the DAT boards. My DAT will be initially released for Android phones, providing drivers and owner-operators up to 25 nearby loads per search from Transcore's DAT network, in addition to convenient access to truckstop information, alternative parking data and point of interest info. "There's a call button integrated into the interface" for load details, says company product manager Scott McCollister, plus "a navigate button" to quickly see what's nearby your current location that uses the device's map software.
Functionality on the iPhone is coming later this summer, along with an update to the mobile-browsing experience for TruckersEdge.net users. McCollister describes a process long underway to make the mobile experience across all device platforms out there a much more functional, quick and easy one for operators using or looking to use the premium board from their smartphones. "Currently," he says, "10 percent of customers do log into [TruckersEdge.net] with smartphones. In making that experience better on a smaller screen, they'll continue to have full access, but we'll make it an easier experience. What we're really excited about is that we're using a platform that supports" all mobile browsers.
TransCore Assistant Marketing VP Eileen Hart says the company had been tracking the popularity of different devices among board users over time, and what they found was a rapidly changing smartphone market. "Probably a year and a half to two years ago, Blackberry was the most popular one," she says. "The iPhone has really taken off since then. And most recently, Android has surpassed iPhone among people accessing us. We're looking at how the market is shifting. It's changing so fast, we have to be able to serve our customers no matter what platform they're using."
When the new TruckersEdge optimization arrives later this summer, it will go live for all smartphone users at once.
As for the My DAT Truck Stop app, which will be available in the Android market May 10, it joins other freight-functional smartphone applications in the TQL Freight Finder (for Android and iPhone), which I've written about in the recent past, and iGetLoaded for GetLoaded.com users (iPhone), the ITS Trucker app (Android, iPhone) for Internet Truckstop users and the uShip app (most platforms) for carriers bidding on freight in the online marketplace.
TransCore DAT load info is also available via the Truckster app I wrote about last week. Says Hart, "Why not partner with them to help out the drivers?" Well put…