Bridgeport, Conn.-based Enviro Express, providing solid waste collection, transfer and recycling services for several area municipalities, is in the process of converting most of its fleet of tractors to liquefied natural gas (LNG) power with a recent purchase of 18 Kenworth T800 LNG tractors. A dozen of the fleet's trucks were displayed at the December opening ceremonies for a LNG and compressed natural gas (CNG) fueling station, which the company will operate for its fleet and to the public.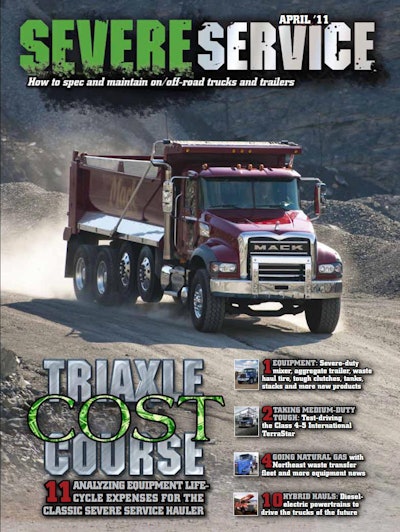 It's one of several stories in the new Severe Service supplement to Overdrive and CCJ magazines, now live in a digital edition. Also included are features exploring life-cycle costs for the prototypical severe-duty vehicle, the triaxle dump, and an examination of hybrid powertrains' inroads in the heavy-duty diesel market. Likewise, Editor Jack Roberts takes International's new lighter-duty TerraStar for a test-drive, and dozens of new products for the severe-duty owner-operator are detailed.
According to the Greater New Haven Clean Cities Coalition, the new LNG fueling station in Connecticut is the first of its kind east of the Mississippi River. Kenworth, the truck maker says, was likewise the first truck manufacturer to offer an LNG fuel system as a Class 8 factory-installed option. The 15-liter, 450-hp Westport GX engine uses 5 percent diesel and 95 percent liquefied natural gas to power the Enviro Express' T800s. To help prepare Enviro Express for the trucks' operation and maintenance, dealer MTC Kenworth held a three-day training session for the fleet's service technicians and drivers. Enviro Express trucks will haul ash in frameless dump trailers from a municipal garbage incineration plant in Bridgeport to a regional landfill 110 miles away, making two trips daily, with each running about 135,000 miles annually. The new fueling station and the trucks' purchase are part of a four-year, $29.8 million program involving federal and private funding called the Connecticut Clean Cities Future Fuels Project.